Star-Crossed Preview: Aliens, Love Triangles, Big Mysteries & More
by Jim Halterman at . Updated at . Comments
Vampire. Werewolves. Hybrids. And aliens?
It's about time The CW add the latter to its list, and that's exactly what takes place on the Star-Crossed Season 1 premiere tonight.
The setting is a suburban town where aliens (known as Atrians) are being integrated into society... much to the chagrin of many humans.
However, Emery (Aimee Teegarden) and an Atrian named Roman (Matt Lanter) share a past and find themselves drawn to each other despite various opposition, thus making them the Romeo and Juliet of this new series, created by Meredith Averill.
Part teen drama, part social commentary, the series is meant to hook in viewers with a story based on love and the supernatural.
I ventured to the New Orleans set last fall to chat with the cast and get the lowdown on this new world. Why do the conflicts between the Atrians and the Humans look a little more familiar than we might expect? Find out now...
This is your first look at Star-Crossed. The series tells the tale of a romance between an alien and a human.
Familiar Faces in New Roles: Teegarden is probably best known for her five seasons as Julie on Friday Night Lights, but she's aware of the differences in her new role as Emery.
"FNL was so wonderful to work on and grow on and I was so young, and to be with that cast, and to learn and grow every day…this show is so different in the sense of being the lead of and there's definitely a lot more pressure and a lot more weight. But it's a complete reversal from Friday Night Lights."
For Lanter, who recently wrapped up five seasons on 90210, the actor (and real-life newlywed) realizes he's staying a little close to home.
"It's still kind of under the same umbrella, as far as being aimed towards a younger teen market, which is The CW," he says, adding that Star-Crossed will draw a variety of viewers in based on the subject matter.
"Knowing what the future storyline is, I think older people, sci-fi people, just as many guys are going to have things to be excited about as young girls might. It was absolutely a conscious decision to kind of do something different, it's still on the same network, but it's a very different feeling show. Nothing about the show feels the same, and that's exciting for me…it feels different from the core."
Fans of Grey Damon (Twisted, The Secret Circle) and Malese Jow (The Vampire Diaries) will also be happy to see them as regulars in the series.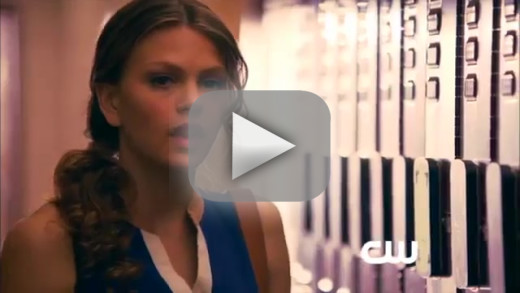 Team Roman or Team Grayson?: It wouldn't be a CW show without complicated romance, right?

"Not too bad," Teegarden laughed when asked about Emery torn between Lanter's non-human Roman and Damon's human Grayson. "Emery definitely finds herself in a little bit of a love triangle [and] it's kind of her first real serious relationship and kind of figuring out all of the firsts in life. It's a very interesting dynamic of one being an alien and one being a human."

Teegarden added that there is a valid reason why her character is also attracted to Grayson: "There's this magnetic energy that draws two people together. There's a softer side to Grayson that I think most people don't take the time to get to know."

Past is Prologue: As you'll see in the pilot's opening moments, Roman and Emery met when they were very young and that history is part of what draws them to each other, says Lanter:

"[Emery's] kind of the first encounter he had as a child, and I feel like that sticks with you. A lot of times you date somebody in high school, or eighth grade, or whatever, and it's your first 'love' and you never really forget that love, you know?"

Expect the Atrian/Human romance to take on shades of Romeo and Juliet as they couple will have to keep their relationship a secret…at first.

Relatable issues: The pilot may set up the human/alien dynamic, but the actors all said future episodes will mix a lot of action that will serve as commentary on our own society to which viewers will be easily able to relate.

"It's about so much more than high school and it's about so much more than just the relationships," Lanter explained. "It's about so much more than being a girlfriend or a boyfriend. It's about more than acing your tests, or whatever. The issues that we're tackling, and the scenarios that we're tackling, are so much more kind of problems of the world, kind of thing."

Pro or Anti-Atrian: There will be easy correlations to how our own society deals with minorities or just people that are deemed 'different.' Damon's Grayson may not like that there's a connection between Emery and Roman but he's also just not sure about the aliens being a part of the world.

"[Grayson] doesn't really know what their motives are or what have you. He doesn't necessarily trust them," the actor teased, adding this will reveal layers about his character. "He's open but he's cautious. Grayson's as outgoing as he can be a very introverted person, too."

Watch Your Back, Emery!: "She's a bitch. She's a badass," said Chelsea Gilligan of her character, Teri, an Atrian whose heart has her feeling possessive over one of the guys. "She is in love with Roman, and will do anything to have him but unfortunately it's not reciprocated so she kind of takes matters into her own hands and starts some stuff."

(Why do I think she and Emery might not be the closest of friends?)

Tattoo You: You'll notice that the aliens have markings on their face and bodies and Greg Finley (hunky Atrian Drake) told me what the markings are like to wear, especially in the Southern heat.

"They're essentially like temporary tattoos," he said. "It's like a sticker that they stick on and they put water on it and they stay…it's a little tough in the heat sometimes." And watch for more markings when Findley has to take off his shirt. "I have a sleeve down here and then when I have like shirtless scenes I have a whole ribcage thing. It's really cool." 

What Is Cyper?: "Cyper is kind of a big mystery in the pilot and continues to be, a little bit, throughout the next couple episodes," Lanter told me. "We see that Cyper plays a huge role in the Atrian culture, and obviously we saw it play a huge role in the pilot." He added, "It healed Julia [Emery's sister]."

The fact that the mysterious Cyper is so powerful will be a good and bad thing for both humans and Atrians and also complicate the Roman/Emery relationship.

"At every level there are reasons why Roman and Emery can't connect," Lanter said. "It's kind of a thing, he's kind of sworn to secrecy, and now that he's used these powers on Julia there are ramifications for that as well, different than there are for using on an Atrian versus a human. Using it on a human is a huge no-no. So a lot of things come from that. And as the episodes go on we actually learn even more about Cyper, and that there are actually different variations of Cyper, and different effects that these things have, it's really cool."

Star-Crossed airs Mondays at 8 p.m. on The CW. 

Jim Halterman is the West Coast Editor of TV Fanatic and the owner of JimHalterman.com. Follow him on Twitter.

Tags: Star-Crossed, Exclusives, Matt Lanter, Aimee Teegarden, Grey Damon, Interviews, Set Visits