We're down to the final four women on The Bachelor Season 18, and this week Juan Pablo Galavis is going to meet their parents. And their siblings. And maybe cousins, aunts and uncles. And anyone else looking for 10 minutes on TV.
It's time for hometown dates!
The previews showed drama with Clare's mother and with Andi's father, but what about Renee and Nikki's families? Let's find out with our +/- review...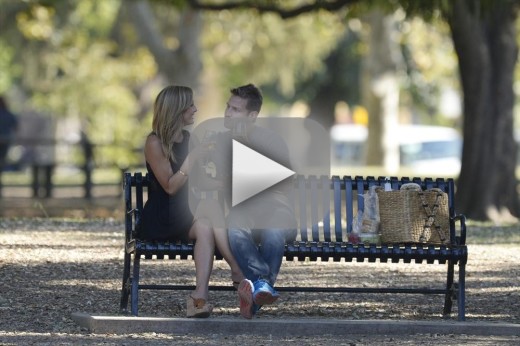 Juan Pablo arrives in Kansas City to meet Nikki's family. She needs to see "how cowboy Juan Pablo really is" because she's from the Midwest. Clearly she didn't see him win the Wild West group date challenge with Desiree. Minus 8

Nikki takes Juan Pablo to Oklahoma Joe's barbecue and he has apparently never, ever in his life had barbecue ribs. That feels so hard to believe somehow, but I guess not. 

She also makes him ride a mechanical bull as payback for making her dance in Korea. Plus 12.

Nikki is "totally in love with Juan Pablo" but too nervous to tell him. She decides she'll tell him she loves him if her family gives her their blessing about Juan Pablo.

Nikki's parents have a gorgeous house. Midway through dinner, Nikki's mom asks if she wants to go talk and they do. Mom says she supports Nikki if Nikki feels good about things. Plus 9

Dad, meanwhile, is chatting with Juan Pablo, but Dad likes that Juan Pablo has the "maturity" of a father.

Juan Pablo says that his proposal is for a "big picture." That's bachelor-speak for "I would ask her to marry me so I could keep dating her and figure things out." 

Nikki's dad tells her that no matter what, he'll support her in whatever she does. Plus 7.

She walks Juan Pablo to the car at the end of the night but doesn't tell him she loves him because the moment just didn't feel right.

From Kansas City, Juan Pablo heads to Atlanta to visit Andi and meet her family. 

But first they have to go shoot some guns. She calls it "Southern initiation." He's totally pumped to be in the shooting range with her and it's awkwardly interesting to watch him. Plus 4.

Andi feels "so close" to falling in love and hopes her parents will tip her over. But her dad starts grilling them about how their dates as they toured the world. 

He's not a fan of Juan Pablo. Or The Bachelor experience. He sees two people who are infatuated with each other but doesn't believe they're in love.

Juan Pablo is quite aware that he's got his work cut out for him. 

Then he teaches Andi's mom how to dance and gets at least one of her parents on Team Juan Pablo. Daddy Dorfman, however, is scared Juan Pablo is going to break his baby girl's heart.

Daddy Dorfman tells Juan Pablo to find a woman first and a stepmom second and then Juan Pablo asks if they would accept him and his daughter into their family.

Daddy Dorfman asks him to reverse the roles for a minute and then won't answer the question because Juan Pablo is dating three other women at the same time. Juan Pablo can respect that answer because it's "honest."

Then it's time for Andi's sister to get honest with her and tell Andi that she just doesn't know if she sees anything between Andi and Juan Pablo. Andi cries.

Daddy Dorfman is REALLY caught up on this "dating three other people" thing. Really caught up. Minus 12. Did he not know what this was before his daughter got into it and voice his concerns then?

Renee takes Juan Pablo to the little league field where her son plays baseball. She sees him for the first time since she left Florida to go on The Bachelor at the same time that Juan Pablo does. 

Ben seems a little shy about meeting Juan Pablo and Juan Pablo drops a bunch of "man" and "dude" comments with Ben like he's trying so hard to be a cool guy. It's a little bizarre.

Renee just cannot stop crying. She's so happy to see her son again. It's sweet. Plus 7.

Juan Pablo, Renee, and Ben go to Renee's parents' house to meet her family. Renee is still sort of reeling from the fact that she's missed so much time with her son. She puts Ben to bed and Juan Pablo spends time talking to her family. 

He loves that she didn't have to show off for him or go crazy to get his attention.

Renee tells her mom that she's "crazy, madly in love" with Juan Pablo but hasn't told him yet. Her dad thinks Juan Pablo is a great guy and sees a glow on his daughter's face that he hasn't seen in a while. Plus 12.

She doesn't tell him that she loves him before he rides away to go meet Clare's family.

Clare takes Juan Pablo to a park where she used to go as a child with her dad. They throw rocks to feel close to her dad who told her that he'd never be further away from her than she could throw a rock into a pond and then make out. Minus 18.

Full disclosure: Clare is not my pick to win The Bachelor and watching scenes with her in it are physically painful for me. I would fast forward through them if I could but then you would all hate me so I'M DOING THIS FOR YOU.

Clare has 5 sisters. She's the youngest of 6 girls. One of her sisters asks her about the day they went "swimming" in the ocean and it's awkward for viewers at home.

Clare sits down to chat with her sister Madeline, the one whose opinion she values most. Madeline asks if Clare is ready to say "yes" if Juan Pablo proposes and she says yes. 

Juan Pablo, meanwhile, is winning over two of Clare's sisters by talking about how he wants to be the kind of dad to Camila that their dad was to them. Okay, so that part is sweet. Plus 12.

Clare's sister Laura tells Clare they're not ready to give their blessing but Mama doesn't say anything at all. She just looks back and forth at her daughters like she's at a tennis match. 

Big Sister Laura is the only one who doesn't seem to like Juan Pablo. Or maybe Big Sister Laura just doesn't like Clare? It's weird.

Clare still wants to talk to her Mama, but Juan Pablo wants to talk to her Mama first. Laura jumps into the conversation, though, and makes it weird. Clare tries to get her sister away from Juan Pablo by saying that Juan Pablo wants to talk to Mama alone. Juan Pablo shuts that down. Plus 3.

Juan Pablo gets to speak Spanish with Mama and then Mama gives Juan Pablo her welcome.

Clare would "absolutely love" to marry Juan Pablo.

Back in Miami, Juan Pablo and the women ready themselves for a rose ceremony. Chris Harrison walks each of the women in to line them up, starting with Nikki and Clare. Renee and Andi follow soon after.

Chris Harrison tells the women that this rose ceremony will be very difficult for Juan Pablo after the hometown dates. 

Flip through the slideshow to see which of these women will head into the Fantasy Suite tomorrow night.

Clare is a contestant on The Bachelor Season 18. She's hoping to be the one to win Juan Pablo's heart.

Ugh! The Bachelor​ spoilers probably told us this was coming, but Renee Oteri is eliminated in the final rose ceremony and as soon as he hands off the final rose to Andi, Juan Pablo begins to cry. Renee hugs the other girls and then hugs Juan Pablo. He walks her out and says this is horrible.

She tells him that she wishes she had told him how she felt and that she did fall in love with him. 

"You're so great. I respect you a lot, okay?" he says. Oh. Okay, then.

EPISODE TOTAL: +28 SEASON TOTAL: -75

What did you think of The Bachelor tonight? Who had the best hometown date?

Miranda Wicker is a Staff Writer for TV Fanatic. Follow her on Twitter.

Tags: The Bachelor, Reviews, Reality TV, Juan Pablo Galavis