Welcome back to the TV Fanatic Grey's Anatomy Round Table!
Our review broke down Grey's Anatomy Season 10 Episode 16 in detail. Now, TVF's Christina Tran and Steve Marsi, along with Jarrod Mitchell, are back for a Q&A.
Read their answers to the questions and weigh in with yours!
----------------------------------------
What was your favorite quote or scene from Grey's Anatomy Season 10 Episode 16?
Christina: My favorite scene was Webber's surprise birthday party. It's been 10 years and it's always just bittersweet when everyone's there together outside of the hospital. It makes you almost feel like you're right there celebrating with them.
Jarrod: Probably the Jo and Alex scenes. I especially loved the ending where Alex gave her his little speech and she finally gave in and signed it. It's good to see them going strong.
Steve: Richard all the way! I can't believe that guy is still around and he's been an unsung favorite of mine for so long. Great to see him recognized with a cute event like that.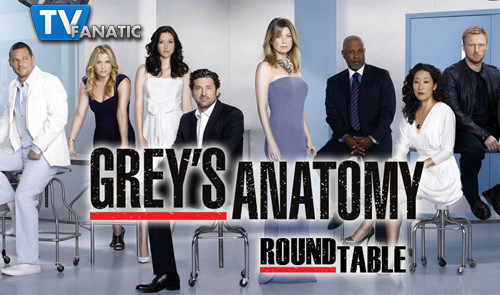 Callie came very close to suing Derek about the sensors. Whose side were you on?
Christina: I didn't like that Callie wanted to resort to suing Derek, but am glad she stood up for herself and pushed his buttons. I love McDreamy but was definitely more on Callie's side and am glad things worked out for both of them.
Jarrod: I was Team Callie. Everything she said to Derek was right and it's about time someone said it.
Steve: Team Callie FTW on this one. Sorry McD.
Which couple's storyline were you most interested in: Japril, Jolex or Crowen?
Christina: I liked that Mama Avery was back to cause trouble for Japril and that played out interestingly. Crowen shared an epic moment with Owen basically saying Cristina's the one, but I still have to go with my favorite couple, Jolex. They're just so darn cute together!
Jarrod: Mostly Cristina and Owen. I know they're dead as a couple seeing as Sandra is leaving; however, I'm just getting the inkling that maybe Kevin McKidd's got an exit under wraps. Could they maybe ride off into the sunset together after all?
Steve: Jolex is presently my favorite couple of the three, but all three were fun to watch this week. Like Jarrod, I'm fascinated to see how Crowen is dissolved ... or if they even are! And Japril, who can be a bit of an afterthought at times, were compelling to watch too.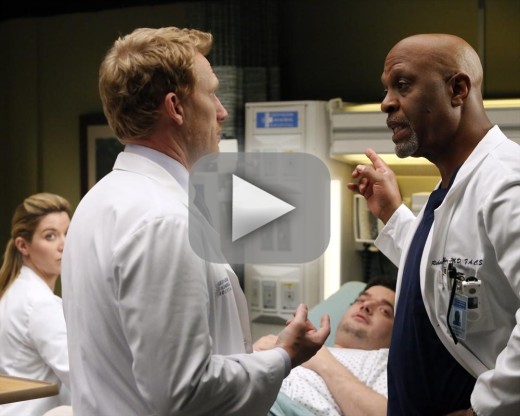 Which medical case did you enjoy more: Ross' storyline with the young expectant mother or the absorbed twin case?

Christina: I liked the latter because it was interesting but actually enjoyed the former more. After all that's happened with Ross, I honestly thought I wouldn't care about him again. The writers are penning one heck of a road to redemption for him though. He's totally stepping up his A-game.

Jarrod: I could care less about Ross, so I'm definitely going with the twin thing. Mostly because I love seeing Richard get a handful of story lines to juggle. He's an underused character half the time and I think he deserves more as a veteran on the show.

Steve: The twins. After 10 seasons, this show still brings its A game with the medical cases on occasion. If you missed this one I highly recommend you watch Grey's Anatomy online. It's a good one!

Whose return are you more excited about: Isaiah Washington or Caterina Scorsone?

Christina: As a former Private Practice fan, I totally am more excited about Caterina Scorsone reprising her role as the awesome Dr. Amelia Shepherd. It feels like I've been waiting forever for Addison and company to make a guest appearance. She's going to be a great addition and maybe we'll see the auntie play with the McBabies.

Jarrod: Words cannot begin to express how I feel about this. I think they may be going the route of testing Caterina on Grey's and if it goes well they'll promote her next season. Amelia was always my favorite character on Private Practice, so to see her have an expanded role on Grey's is just a dream come true.

Steve: Amelia was so great on Private Practice, and I'm looking forward to her Grey's guest spot big time. But given how strong the show started out in large part because of Isaiah Washington, and the way he left the show as well as the way his character departed, that one has me much more intrigued.

Are Richard and Owen working together on that case of a lifetime?

Tags: Grey's Anatomy, Round Tables