If someone tried to regale you with the tale that befalls Jim, Steve and Billy on Legit Season 2 Episode 5, it would sound completely and utterly ridiculous.
The unfortunate predicament the trio gets themselves involved in starts out because Steve and his father - rather than wait for Billy - grab a drink at the local bar.
Billy finishes before Steve and promptly puts himself in the van to wait... except the van is repossessed and taken away with Billy inside. Shenanigans ensue, of course.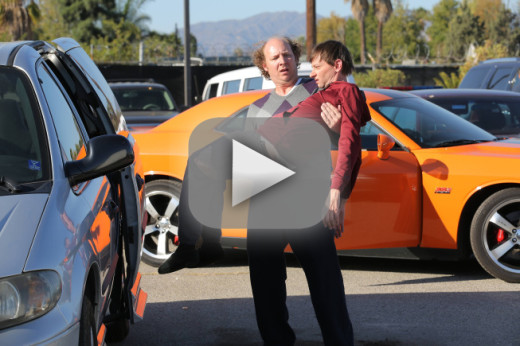 You can't help but shake your head and chuckle at the fact that Billy, incapable of getting out of the van, winds up alone and helpless, largely due to Steve's drinking problem.

But then you just feel bad for Steve and his drinking problem. You even feel bad that his father seems to be following suit. Yes, there's a humorous joke about losing Billy, but there's something to be said when Jim winds up being the responsible one.

Really, Steve's life - the drinking, the not paying bills - starts to become a lot less funny the more it continues. Certainly, his life hasn't been easy, but I can only hope that he finds himself pulling himself out of the hole rather than grabbing another shovel to dig himself deeper in.

Thankfully, with Billy's stolen wheelchair, the story was able to find that charming humor by pitting Billy against the gang members who stole it. Even having Steve ever so slowly ram Billy's wheelchair into "No Name" worked for the situation.

And while I liked seeing Steve and Jim worry about being in the wrong neighborhood or even challenging the gang members, it was great to see Billy stand up to them. Plus, a chess match instead of a brawl was a comical switch to what we were all expecting. Then, having them get beat up anyway after Billy won, was the icing on top.

I would have been okay, if it ended there, but the addition of getting the guys' mothers involved took the already outrageous story one step further. How funny was it seeing the gang members apologize in unison to Jim, Steve and Billy?

While I'm not quite sure why Jim was playing fetch with himself at the end, the bonding of the two sets of brothers, followed by the repossessing of Steve's lawyer's car, was a positive way to end the episode.

It certainly redeemed it from the outset of events and was worthy of some chuckles. I can only imagine what else the trio of friends are going to get involved later on in Legit Season 2.

Who is the least responsible of the Legit group?

Sean McKenna is a TV Fanatic Staff Writer. Follow him on Twitter.

Tags: Legit, Reviews