It's a new day down the rabbit hole, as Once Upon a Time in Wonderland Season 1 Episode 9 returned with a new genie, a reunited duo and an even bigger evil. 
"Nothing to Fear" was a complete misnomer, considering all that took place during this hour.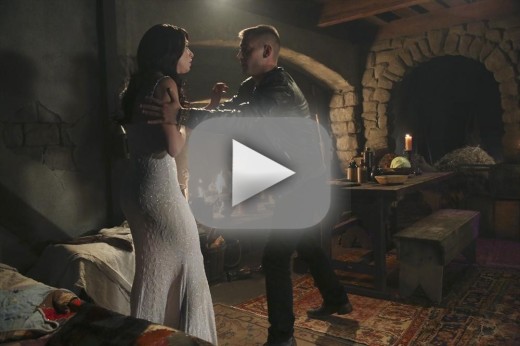 To start off with, Will was now the genie in the bottle. As if that wasn't bad enough, he and his bottle were washed down the river. But at least he ended up in friendly hands.
I don't think anyone else doubted that Lizard was in love with Will. Apparently the only person blind to it was Will himself. I loved his list of the qualities he's attracted to in a woman. Confidence, passion, spontaneity and a little bit of a naughty streak. Not to mention someone who knows how to wear a dress.
It was the perfect description of the Red Queen. But as Lizard wished for all of those things they just didn't look quite right on her. Yes, she was beautiful but not quite comfortable in her own skin any more. 
When she wished that Will would just feel something for her I don't think anyone could have foreseen the consequences. Because as she laid their dying what Will felt for her was grief. 
Everyone was on the hunt for Will and I had to agree with the Red Queen when in this Once Upon a Time in Wonderland quote she told Cyrus and Alice…
You two are even more insufferable together, do you know that?

The Red Queen
After watching them pine after one another for half a season, I thought I'd enjoy their reunion more…of course so did Alice. The two never did get a moment alone to enjoy themselves. 

As much as Alice despises the Red Queen, Cyrus was certain that her love for Will was sincere. 

It was a sad moment for her as it sunk in that there was absolutely no one in all of Wonderland who would pay a dime to ransom her. There simply wasn't anyone who cared for her besides, Will, Cyrus, and Alice. And Alice only grudgingly.

I really couldn't blame the Queen for being the one to open Will's bottle. I was surprised she waited as long as she did.

Now that Cyrus knows that Jafar has his brothers there is no turning back. Instead of running from Jafar, this foursome is on the hunt for him.

That Jabberwocky was not what I expected. I like how she towered over Jafar. It only magnified that she is perhaps the one creature in all of Wonderland more powerful than him and that should keep things interesting 

Now the goal is to save all of Wonderland. Is that even possible?

OK, TV Fanatics, who is your favorite character in Wonderland?

C. Orlando is a TV Fanatic Staff Writer. Follow her on Twitter.

Tags: Once Upon a Time in Wonderland, Reviews