It's not easy watching kids get the shaft on television, but when a series is called Parenthood, there are bound to be times when parents don't get the job done right. 
Some mistakes that have been building came to an explosive point in Parenthood Season 5 Episode 18. From a parenting standpoint, it deals with Kristina and Adam and their sheltering of Max, as well as Joel and Julia and the way Victor was integrated into their family.
Before digging into those meaty topics, let's hit upon the offer on the homestead, Amber and Drew and Sarah leading Hank on.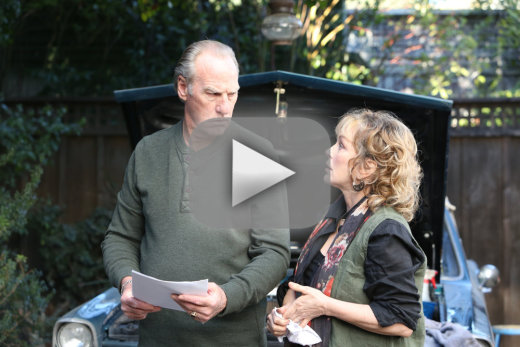 Zeek and Camille got a great offer on the house before it was even on the market. That's everyone's dream, isn't it? That someday you'll consider selling your house and someone will be strolling through your neighborhood and just want to put in an offer?

It happened to Zeek and Millie, but since it came so quickly and was under asking (even thought it was all cash), they decided to hold out for a few more months until Crosby was settled, the car was fixed and other excuses they were using to put off the sale. 

Then the couple countered their refusal with an offer over asking, making it the largest sum ever offered for a home in their neighborhood. Zeek and Camille have a lot to think about, but it seemed like the steadfast Millie was starting to waver the closer selling her home of 44 years came to reality. We'll have to wait and see!

Drew was staying away from school because he didn't want to see Natalie or Dorky (or whatever his name is) and was also sad about Amy. He just wanted to write songs and get high. Amber tried to do the sisterly thing and give him some advice, but in the end she just decided to sing with him. A really long song. Like too long for the show long. It was a little awkward.

Hank finally had the guts to tell Sarah that he didn't think it was cool that she kept coming to him when there's a Braverman on every corner and yes, she is sending him mixed signals. Although she has told him prior to that she only wanted to be friends, after he shared his feelings she didn't really have a follow up. She's not a very nice person when it comes to men and it's difficult to understand why so many seem to fall for her.

Onto the real meat of the hour. The poor parenting skills or overindulgence or my inability to understand how to properly raise children in a world full of creeps. Because let's be honest, there are a lot of jerks in this world and the best thing parents can do is prepare their kids for them. It's unfortunate but we all know they're out there.

Sarah might have angered Kristina and Adam by pointing out that Max didn't seem to understand the word no, but kids hate him. Yes, he is a bit weird, but would he be so adamant all the time if he wasn't always told to express himself when and where he wanted to? It doesn't seem as though he has been taught the appropriate ways to communicate in a world where kids are going to be jerks. 

We can't teach other kids not to be jerks, we can only teach responses to the jerks. That's just the way it is. 

Someone peeing in Max's canteen is heartbreaking. But it's not something special because he has Asperger's. That can happen to a kid with buck teeth, pimples, a lisp -- any number of things. It hurts and it's horrible that kids have to be strong to get through childhood, but they'll be the winners when they're older. Take it from the girl who was stapled in the back in 5th grade. Not cool.

Then we have Joel and Julia and their situation that has cascaded onto Sydney and Victor. Sydney got upset about Victor and said it was his fault that her parents were split, and it's difficult to blame her. The problems did start about the time Victor came into their lives. Way back then it seemed as though they were jumping through hoops to make Victor feel welcome while ignoring how it made Sydney feel.

Joel, in particular, discovered an affinity with a son that he didn't have with a daughter and formed a special bond. Whether it was intended to be written in that way or not, it came across that way and it was brought to light again when Joel broke his own rule about not making solitary decisions by purchasing Victor a cell phone to make him feel safe when just a week ago he was angry at Julia for promising Sydney she could sleep at her mom's for the same reason.

By comparison, Julia telling Sydney she could just sleep at home with her jammies was a relatively small decision, but one that made Joel very angry and he had no problem telling Sydney it wasn't going to happen. When faced with an issue of his own making, he immediately caved and made a huge decision; one that left out his daughter if you look at equality issues.

Sadly, Victor is caught in the middle thinking he is the cause for his new parents living separately. There is so much anxiety in that family right now it's amazing they're handling things as well as they are.

You will have a lot to say about Max from both sides of the issue and a lot to say about Sydney and Victor. Hit the comments. Play nice. These are really difficult topics and there are no right answers, just conversation.

To find out how all of these relationships have gotten here, you can watch Parenthood online to put the pieces together.

Do you think Joel has a soft spot for Victor over Sydney?

Carissa Pavlica is the managing editor and staff writer for TV Fanatic. Follow her on Twitter and on Google+.

Tags: Parenthood, Reviews