For the most part, Person of Interest Season 3 Episode 18 was a case of the week hour. There was some predictability to the course of events, but the show still found a way to at least make things interesting and fun.
There's always a hope that whatever person of interest Reese, Shaw and Finch track down, the particular predicament of the latest installment makes you curious to know more. With Maria Martinez, who worked for a private energy company, the core focus was on her love and the lie that he was a terrorist.
Not exactly anything groundbreaking, but dealing with corrupt politicians on a global scale, along with the questioning of allegiances was a solid one.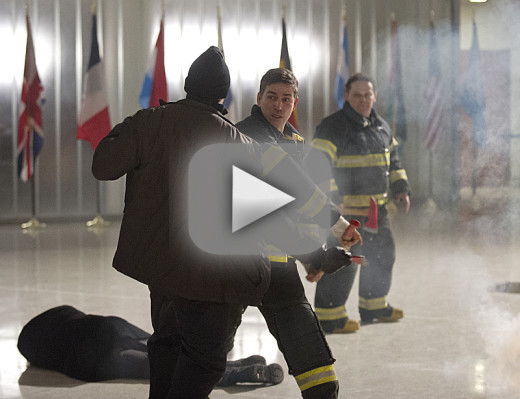 And while Maria wasn't necessarily the most memorable person of interest to grace the show, her persistence and dedication to uncovering the truth was a major plus. She didn't just sit around, even managing to pull a fast one on Shaw.

Yes, she put herself in obvious danger, but sometimes love is worth the risk. And having the POI team at your back makes things a lot easier.

As we near the final batch of Person of Interest Season 3 episodes, I've definitely continued to notice how much Shaw is played up at the front of a lot of theses cases. It's certainly great that we get to see her character grow, watch her prove her physical prowess in the elevator or learn a bit about her past during a quiet moment at a restaurant. She's a worthy addition to the team.

But sometimes I can't help but wish there was some more Reese, even putting him as the lead man on the case. I hope that's more just to allow the other characters some time to develop and not a precursor to his character exiting the show.

That said, Reese's moments for the hour were definitely entertaining. That dry sense of humor never fails him, and there's always a certain sense of glee when he gets to call a plan such as using a fire truck.

But his action scenes allow him to maintain his title of badass, literally fighting a guy out the window to crash land on a car and then shrug it off like it was no big deal. Realistic? Not at all, but it works, especially with his character.

And I did like the Indiana Jones nod when simply shooting the enemy rather than knife fighting him. You just don't mess with Reese.

I was also really impressed with Fusco's work. Maybe, it's because he's used in small doses, but whenever he shows up to play, it's always a treat. He too has some great lines, despite being sometimes pretty cheesy, but he also was able to get in on the action with his own punches. Don't underestimate him, that's for sure.

Of course, happy endings abound after Maria and her love were reunited and his name was cleared. But I did like the added touch of giving Fusco and Shaw a chance at the end to further grow and bond. Sometimes those small moments like ordering her a drink and getting a little personal really stand out.

Yet, in true Person of Interest fashion, the series throws out that extra last tidbit of larger mythology while revealing that the simple case of the week was perhaps a little more relevant than you would have thought.

Root was on the trail of Decima, hoping to finish off Greer and prevent Samaritan from going online. And I love that Greer was able to sort of battle the Machine with his counter measures. At the same time, it was also great to see Bear's abilities track him down when technology failed Root.

Except that small info that the company Maria worked for, the one that "lost" the six generators? Turns out they went to Decima, and surprise, surprise, are being used for Samaritan. Or maybe Greer really is a big gamer?

Either way, his conversation in the closing minutes of the episode were intriguing. Root may have turned down his offer to join forces with Decima for now, but what if the two did team up? In a weird way, Root loves the Machine, but how far might she go with it?

There are some dangerous times ahead indeed, and I just hope the POI team will be ready to face them, probably when they least expect it.

Do you think Root will take up Decima's offer?

Sean McKenna is a TV Fanatic Staff Writer. Follow him on Twitter.

Tags: Person of Interest, Reviews