All families have their share of nutballs. Some more than others and the Rizzoli family is no exception. 
Rizzoli & Isles Season 4 Episode 14 combined a tragic murder with an awkward homecoming.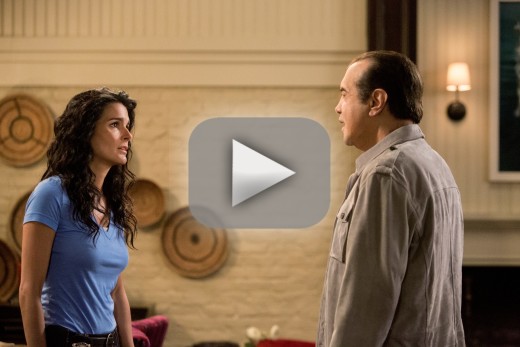 Natasha's murder was a sad, tragic case. She couldn't have looked more innocent wearing that white lace dress. The girl had a gift. A serious talent for music and her life was ended due to jealousy and greed. 
I kept wondering what the murder weapon was and enjoyed the search for the "sharp, pointy thing" used in the stabbing. My guess was an ice pick since the killing took place in a bar, I was wrong. Yet that must have been one heck of a nail file. I may never look at one the same way again. 
One of the greatest insights was that Korsak is a musician. I love finding out these little tidbits about these characters. It reminds us that there's still so much of their back stories to be enjoyed.
But the biggest surprise of night was Frank Rizzoli wandering back and somehow believing his children would be happy to see him even though…
He left their mother and took off to Florida.
He slept with Tommy's girlfriend.
He stuck Angela with a $27,000 IRS bill. 
Somehow, he thought that just being their father should entitle him to be able to walk back into his family but it just didn't work that way.
As usual, Angela was a champ. When she walked in and overheard that her ex had cancer, she immediately reminded Jane that none of this was her fault. No one can say Angela Rizzoli is not a great mother. 
I also found it telling that Jane wasn't even sure whether or not she believed her father's story about having cancer. Frank has most certainly shattered her trust in him in a way that may be irreparable.
Their family dinner was horribly awkward. As soon as Frank showed up with the cheap blue carnations I had no doubt that Cavanaugh would be next through the door with a beautiful bouquet. 
It only proved to make Frank more insecure, which led to his drinking and then berating his sons and ex-wife. I appreciated that Cavanaugh was there to stand up for Angela but I liked it even better that she was completely capable of standing up for herself. 
And as Jane told her Pop in this Rizzoli & Isles quote…
All the crap that you say to Tommy and Frankie, you can't ever take that back, Pop.

Jane
In the end, I felt bad for the sick man whose family told him to go back to Florida but I was still very happy that they did just that.

When Frank walked away from his family, Maura was there to lend a hand and fill the void. She's definitely earned her place as part of this family and it was nice too see everyone acknowledge it.

Your turn, TV Fanatics. Should Angela and Jane have told Frank to return to Florida?

C. Orlando is a TV Fanatic Staff Writer. Follow her on Twitter.

Tags: Rizzoli & Isles, Reviews