After a night of rock and country, America has voted. The American idol Top 5 will be revealed tonight, bringing us just three people away from the Season 13 finale.
That's cool and all, but the highlight of the night might just be Keith Urban in a suit. Or Grumpy Cat. It's a toss-up.
Without further ado, let's get to the results to find out who's sticking around for another week and who's leaving American Idol.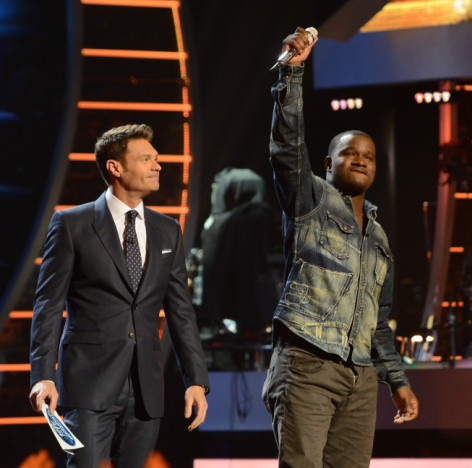 Sam Woolf, Caleb Johnson, and CJ Harris get their results first. Randy thinks Caleb won the night, Sam was good, and CJ could be in trouble. I concur with Randy. 

America does too. Sam and Caleb are safe and CJ is in the Bottom 2.

Jena Irene, Alex Preston, and Jessica Meuse​ are up next. Randy believes Jena is safe but either Alex or Jessica could end up in the bottom 2. I mostly agree with Randy on this one. I think Jessica's a very flat performer and shouldn't stick around much longer.

Jena is safe and she joins Sam and Caleb in the lounge. Alex is also safe meaning Jessica Meuse is at risk of going home.

CJ Harris will not be making it to the Top 5. Tonight he'll sing his final song and head back to Alabama until the finale and tour.

What do you think TV Fanatics? Did America make the right choice?

Well done, Caleb Johnson! He's advanced to the final 13 on American Idol.

Miranda Wicker is a Staff Writer for TV Fanatic. Follow her on Twitter.

Tags: American Idol, Reality TV