It's getting harder and hard each week to decide who should stay and who should go on American Idol. But barring the judges' using the save, which is still in play, our Top 8 will become the Top 7 tonight.
We'll find out quickly now that the American Idol results show is down to 30 minutes. We'll also check in with Chris Daughtry as he stops by to perform and hang with the contestants once again (in an actual live set...).
Now let's see who might be leaving Hollywood...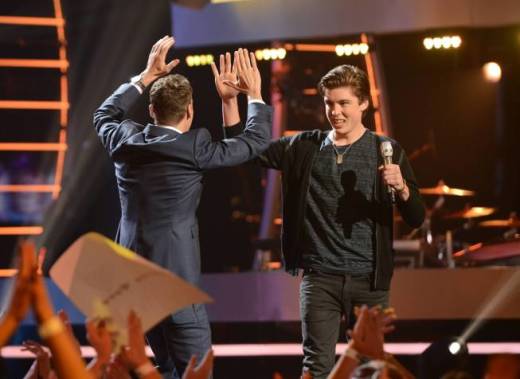 In random order, Dexter Roberts is the first to find out he's safe for another week. Jena Irene joins him in the lounge. Apparently the youth of the world liked her rendition of Adele's hit "Rolling In the Deep."

Chris Daughtry's "Waiting for Superman" is pretty great. Caleb Johnson was no doubt sitting in the audience declaring that would be him someday. And maybe it will.

Speaking of this season's resident rocker, Caleb Johnson is safe. So is Jessica Meuse. Rounding out the top 5, Alex Preston gets the news that he's sticking around.

That means Malaya Watson, Sam Woolf, and C.J. Harris are the Bottom 3 this week. One of them will sing for the save.

In a totally shocking turn of events, Sam Woolf is singing for the save. (HOW did he get FEWER votes than C.J.??)

He picks "Babylon" for his potential swan song and it's clear that he's a little shocked, but what this news does is open him up a little bit. This is the most relaxed performance he's ever given. He smiles and grooves and has more fun on the stage than he's had all season.

Well done, Caleb Johnson! He's advanced to the final 13 on American Idol.

The audience chants "Save him! Save him!" and Ryan kicks it over to the judges. Jennifer announces that they are unanimous and they'll be using the save for Sam.

He's sticking around for another week. 

This was probably a good call. If C.J. Harris or Malaya Watson had ended up in Sam's spot, I doubt the judges would have used the save tonight. This might mean two people will go home next week, however, but it could be that an extra week has already been built in to the schedule. I'm not sure and it's been done both ways in the past. We'll see.

What do you think, TV Fanatics? Should the judges have used their save for Sam Woolf?

Here's your chance to download the Top 8 songs from this week's performance show:

Miranda Wicker is a Staff Writer for TV Fanatic. Follow her on Twitter.

Tags: American Idol, Reality TV, Reviews