Tonight is Glee Season 5 Episode 17 and we FINALLY get to see Funny Girl! Or at least maybe one or two songs from Funny Girl.
Rachel is having a fairly standard opening night nightmare complete with a hideous reindeer sweater. Luckily, it turns into a weirdly auto-tuned rendition of Lovefool with William Shakespeare playing the drums, which I enjoy very much.
I am assuming whoever wrote this is as big a fan of Baz Luhrmann's Romeo + Juliet as I was in 1996. It's the only logical explanation.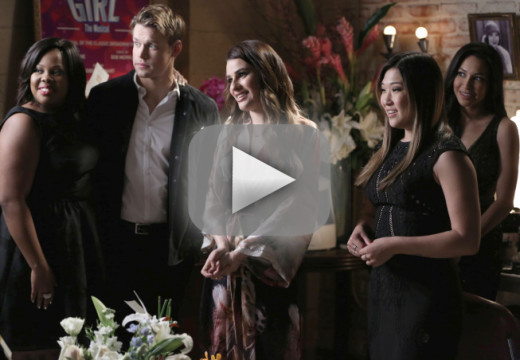 Kurt takes Rachel's cell phone so she won't freak out over reviews. I am fairly sure that won't actually stop her from reading them.

Sue! And Will. Apparently Sue wants to go to NYC, despite the fact that she thinks it's a horrible place. If this is really Sue singing in her own Broadway snow globe dream sequence I am going to punch the writers and producers in the face for not letting her sing in EVERY EPISODE.

Tina is in NY for Rachel's opening night and says lots of wrong things. Rachel is resting her voice, which involves wearing a turban. Mercedes rushes Tina off to stay at her place so she can't make things worse.

It is the middle of the night so obviously Rachel is watching/reading/absorbing every negative review she can find, which seems like a very bad idea. I mean, I don't even read comments on these posts because I'm so afraid someone is going to yell at me - having the whole internet saying I suck would make me crawl into a hole and sob for days. Rachel and I are both too sensitive for our very important jobs.

Kurt calls everyone together to try to cheer Rachel up, but they all strike out. Who doesn't know Barbra dropped the "a"?!? Amateurs. Then Sue shows up! And then Santana! This is going to be excellent!

Santana uses her attitude and incredible breasts to bitch-slap Rachel back to normal. Besides the turban, Rachel hasn't been awful at all yet! I'm actually excited for her opening night!

Sue tries to scalp her Funny Girl ticket and runs into Dr. Spaceman. I think she's in love with him, because who doesn't instantly fall in love with Dr. Spaceman? (That's a 30 Rock reference, in case you are too young to have watched 30 Rock) (brb, dying inside).

Will surprises Rachel backstage in her dressing room and they have a nice moment remembering Finn and then Will has to go because his wife is in labor. It's a good thing in Glee-world it only takes 20 minutes to get from New York to Ohio!

Rachel's long-shot backstage walk is one of the nicest scenes Glee has ever done.

Sue hates the show and leaves, but Rachel sees her and it inspires her to sing really, really well. It really is good. If they ever do remake Funny Girl for real Lea Michele better get the part. Really.

It turns out Chris Parnell owns restaurants. He's kind of a big deal. I think he and Sue are perfect for each other.

The producer is worried the critic from the New York Times saw Sue leave and will write a bad review. Apparently in Glee-world getting a bad review from the Times is DEATH to a show. INSTANT DEATH. But no pressure.

"I mean seriously, if I wanted to see a show about an ugly duckling who gets dumped I'd watch an episode of Girls," says Chris Parnell, and Sue is definitely in love. And then he says he's married to New York and she has to reconsider everything she knows about the city.

Rachel and Sue sing Who Are You Now as a duet, which might be the most shocking thing that's happened on this show. I realize it's a dream but it's really beautiful. It's not fun - Rachel is crying and I suspect those are real tears - but it's lovely. I demand more Sue-singing in every episode.

After the show everyone is excited because it went so well. They have 6 hours to kill before the reviews come out, so they whole gang goes dancing. At a gay club, obvs, because who else could truly appreciate Rachel Berry's skillz?? I am concerned she is going to stay out too late and ruin her voice. Doesn't she have like, 8 more shows to do this week? Go home and put your turban on, Rachel!

Back at the apartment, Sue totally did it with Chris Parnell. Rachel tells them off and gets actual applause from her friends. It would be a lot more meaningful if I thought Sue cared AT ALL. But she's Sue. She does not.

The review is in: Rachel is AMAZING! And Mr. Shue had a baby he named Daniel Finn! Everyone is so happy!

Sue breaks up with Chris Parnell, but not before making out with him grossly on the sidewalk. Back in Ohio, she stands by her hatred of most of New York but likes the part where she had sex all over the apartment of her previous students. Ew? Who let this woman be on TV or be a principal?!

Next week on Glee: Shirley MacLaine! I suspect at least 50% of the audience has no idea who that is (brb, continuing to die inside.)

Did you think Rachel deserved a great review??? (I am on Team Absolutely, but you can vote below!)

Tags: Glee, Reviews