Welcome back to the TV Fanatic Grey's Anatomy Round Table!
Our review broke down Grey's Anatomy Season 10 Episode 19, "I'm Winning," in detail. Now Christina Tran and Steve Marsi, along with Jarrod Mitchell, are back for a Q&A.
Read their answers to the questions and weigh in with yours!
----------------------------------------
What was your favorite quote or scene from Grey's Anatomy Season 10 Episode 19?
Christina: Nothing in particular really stands out as my favorite, but I did really like when Meredith said: "She told me she didn't win the Harper Avery award. She earned it."
Jarrod: The fact that Cristina is most likely going to win a Harper Avery. I'm beyond excited for her character!
Steve: Make it a clean sweep for Cristina. She's going to go out on top!
Which medical case did you like best?
Christina: I want to know more about the family with the heart condition but the bubble boy storyline tugged at my heartstrings.
Jarrod: I'm with Christina on this one. I gotta know what's the crises with this family. I'm really hoping it's the story that brings in Dr. Burke.
Steve: That's a good point by Jarrod about Burke. Will this be what finally brings him back? And how will that impact Cristina?
Will Cristina win the Harper Avery Award?
Christina: Of course! Otherwise, everyone at GSMH is going to have a heyday.
Jarrod: She won't win it, she'll earn it.
Steve: Absolutely, hands down. #GOAT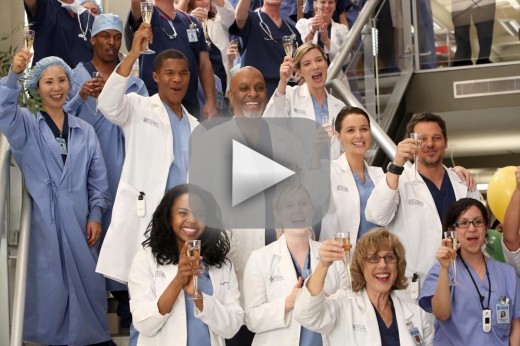 Whose relationship are you most interested in lately?

Christina: I love Jolex! I like that she's supporting him in a possible career change.

Jarrod: Probably all of them. I'm glad to see Japril being newlyweds, I'm glad to see Calzona getting their life back on track, I'm happy to see MerDer being a supportive couple and I'm enjoying JoLex explore new avenues. Everything's right on track for all couples.

Steve: If I have to pick, I'm most curious about Calzona in that I don't know how that's going to play out at all. But like Jarrod said, all have been great to watch and I'm legitimately interested in each.

If you could play with Derek and Callie's new machine for the day, which doctor's mind would you want to read?

Christina: Meredith's!

Jarrod: Bailey. Girl is missing out on too much screen time!

Steve: Karev. I'd love to know what he really thinks sometimes and how much of the bravado is just an act masking something deeper.

Yes, she's an OB. But few physicians would put any patient at ease as well as Mindy Lahiri. She has an MD in hilarity.

Tags: Grey's Anatomy, Round Tables
Want more Grey's Anatomy?
Sign up for our daily newsletter and receive the latest tv news delivered to your inbox for free!
More From TV Fanatic
Gather around, True Blood Fanatics. Let's discuss "Karma" via the TV Fanatic Round Table.
Check out this fun video from ABC, which features Shonda Rhimes, Kerry Washington, Viola Davis and Ellen Pompeo.
Our Suits Round Table team gets "Litt the Hell Up" as they debate mixed signals, telling the truth and favorite moments from last week's episode. Ready to join in the fun?
Our Days of Our Lives round table teams up with MyHourglass to debate if Will took his tirade against Sami too far and whether Abigail has suffered enough after this week's Days of Our Lives.
---