It was a box under the floor which made Liz suspicious of her husband. Will it now be another box that shifts that suspicion from Tom to Red?
The Blacklist Season 1 Episode 19 was not a good hour for Liz. She confirmed her marriage was a farce, her husband ridiculed her for being easily manipulated and then she found out that Red may not be who he says he is either. Poor Liz.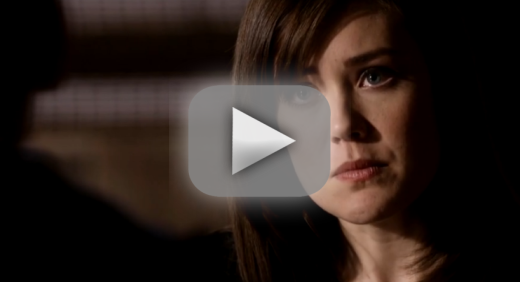 For someone who's supposed to be an excellent FBI agent, she sure gets played a lot. And, breaking Tom's thumb? A moment which should have demonstrated her strength and resolve, instead showed her amateur status compared to both Tom and Red. She's not nearly up to their level. 

She let her emotions get the better of her. Instead of playing it smart and careful, she was impulsive and stupid. Tom saw her at the National Archives and it was game over. Tom went to ground in order to protect himself and his mission. Without Red's help, Liz would have never seen Tom again.

Red's motivations are as opaque as always. He cared more about Liz and getting Tom then protecting the Chinese scientist. With the Pavlovich Brothers in town, he used their expertise in order to capture Tom, but then left him in Lizzie's care. If he thought she could handle her husband, he was mistaken.

The heart-to-heart between Liz and Tom was painful to watch. If Tom had any feelings for her, he effectively hid them from her. She was still the woman who put a heart in the dust on his shoes. She's a romantic and that left her vulnerable to Tom's charms both then and now. 

As she sat handcuffed on the stairs, she didn't show any doubt about Tom's statements about Red. When she was free and able, she immediately went to the back to open the safe deposit box. Instead of guns, fake documents, and money that she found in Tom's box under the floor boards, this box held a manila envelope with a few sheets a paper.

From the look on Lizzie's face, everything has changed. 

We'll have to wait at least a week to find out what was on those pages, but it's likely something that will create a divide between Liz and Red. Who is he really? And will the truth ultimately bring them closer together or pull them apart? 

It's possible that Tom really is on the right side and a good guy. Regardless, it's unlikely that Liz will ever forgive him. He lied, stole her heart, and used her in ways that are unforgivable. Though, I guess crazier things have happened!

I don't really have much to say about the scientist. The FBI really needs to re-examine and freshen up their standard operating procedures. The criminals seem to know what the FBI will do and that needs to stop. This case really was just a  way to bring the Brothers back, so Red could use them to get Tom. It wasn't anything too exciting, especially in comparison to the Tom-Liz story.

Liz definitely was outplayed by Tom, but she did hold her own in their hand-to-hand combat. That was a great fight. She had the guts and the skills, she just needs to get her heart in check if she wants to beat Tom and find out the truth. It's unfortunate, but it's necessary for her to focus on the pragmatic rather than the emotional. There will be time to mourn the lost love and innocence later.

Who is the better man?

Carla Day is a staff writer for TV Fanatic. Follow her on Twitter and on Google+.

Tags: The Blacklist, Reviews
Want more The Blacklist?
Sign up for our daily newsletter and receive the latest tv news delivered to your inbox for free!
More From TV Fanatic
This week on The Last Ship, Danny gets sick and the crew begins to panic. Is it the virus? Meanwhile, Rachel's vaccine trials continue to fail.
Who was able to successfully problem solve on The Rachael Ray Show this week? Find out now in our review of Food Network Star.
The Masons are reunited on Falling Skies Season 4 Episode 6. Will it be a happy or contentious reunion?
What took place on The Real Housewives of New Jersey Review this week? Read our rundown to find out!
---