Mindy continued her break from men this week, taking advantage of her free time to have some elective surgery.
Anyone who thought her reaction to the pain meds was over the top has never had a procedure done. I was about to yell "No" when she went to sit down on the bed bug bed, but thankfully Charlie rolled up.
Mindy was hilarious under the influence, especially when she spoke to the fire hydrant and addressed it as "little red child." There was plenty of this brand of humor on The Mindy Project Season 2 Episode 21, but there were also some very subtle scenes that hit their mark and produced some good laughs from me.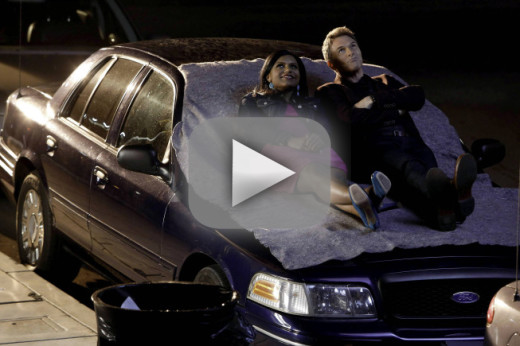 The first of which came when Peter met Lisa at the party. As Lisa made fun of Peter, we saw him uncharacteristically caught off guard. But instead of being scared off, he sort of liked it. It was his first hint that Lisa was not like the girls he usually dates. The biggest difference, of course, being that she is a mother.
Isn't it funny how as you get older, babies and jackets are often both stored in the host's bedroom? Props to Peter for not bailing on the date. I think says something about his character.
Peter's admission that he was not used to dating smart woman was funny, but also showed that he was somewhat out of his element. I know he called his napkin trick lame, but I thought it was pretty cool. Even after seeing it a second time I still am not sure how he was doing it. I'll have to ask Siri after this.
My favorite scene of the episode was when they switched to the subject of good deeds.
Lisa: You shouldn't be allowed to tell anyone when you do something good.
Peter: Exactly, I have been saying that for so long. Like there's this charity that I just started giving money to, it's for um...I'm not gonna tell you. It's Jump Ropes For Fat Kids! Feels good to get it out.
Peter finally was acting like himself and Lisa was enjoying it. At the end of the night, though, she no doubt went home to her baby. This reality was why she didn't want a second date, but I hope she gives Peter the chance to show her she can be a single parent and still have fun.

I can totally see the scenario unfold where Peter falls for not only Lisa, but her baby. I think seeing Peter take care of a baby for a weekend could be rather amazing.

Mindy and her new man had some good scenes, but all paled in comparison to the one where Danny tried to flex his neighborhood credentials. He cranked that accent right up, didn't he? When Charlie told him he was making "sauce," Danny knew, much to his chagrin, that the guy was legit.

Despite his accent seeming a bit much at times, Charlie seems to be really good for Mindy. I loved how he refused to put the fire out in the oven, instead empowering her to do it herself.

I can't remember ever saying this before, but my least favorite parts of the episode featured Danny for the most part. Mindy was right to call him out for his ill timed attempt to kiss her. He had some good lines, but there was something missing from his usual charm.

Jealousy is not a good shade for him. Mindy telling him people change was one of the more serious moments they have had.

I was glad she went out with Charlie again. I really began to like him when he told Mindy he learned how to kook and do girl's hair after his wife left him. He hasn't learned much about dating, though.

There are about a million better places to watch a meteor shower from in New York City than the hood of a parked car on a busy New York City street.

Tags: The Mindy Project, Reviews