It's down to two on American Idol. The Top 2, that is. 
Will it be Caleb Johnson and Alex Preston? Alex Preston and Jena Irene? Caleb and Jena? Caleb and Alex?? Some other combination I can't think of because my brain is still reeling from the shock of The Vampire Diaries season 5 finale?
Oooh! A cute puppy! 
Okay, let's get started with this results show. WHO WILL IT BE?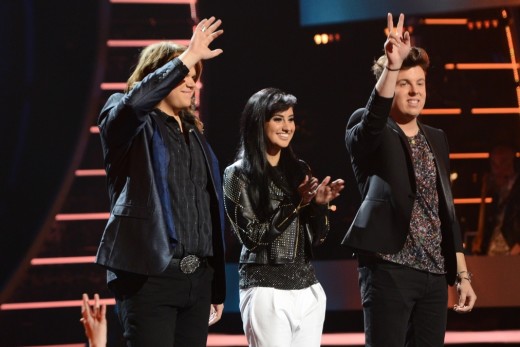 The addition of the lounge to the American Idol stage has meant, apparently, an improvement in the chairs these kids get to sit in while they await their results. Finally, after 13 seasons. Those uncomfortable stools were getting...uncomfortable.

Jena Irene's lipstick looks great tonight! It's time for the highlight reels from the hometown visits!

Jena's puppies are cute! And by puppies I do mean the canines who greeted her at the airport when she arrived in Michigan.

Oh, Jena's grandma is adorable. The parade to her high school leaves Jena in tears. She gets a key to the city that the mayor is quick to point out doesn't actually open anything. So that's nice?

Jena will be performing with Paramore during the finale. That doesn't suck.

Danny Gokey's married with a baby and another one on the way. (That's another thing we only sort of care about right now that is being used to fill the time tonight.)

Elliott Yamin sighting! Three albums we've never heard and no babies for him. 

Scotty McCreery's in the house to share his latest single "Feelin' It." I always liked this guy, but this song is very Florida-Georgia Line with less R&B. Oooh, Corey Smith. That's who I was thinking about. This is the country music song of summer.

Alex Preston hit his local radio station as his first stop on the hometown visit and while he was there his family and townspeople talked about how he's a celebrity there now. His mama's ready to feed him. Good mama!

The New Hampshire GOVERNOR came out to declare that Alex Preston gets his own DAY in the state and then a little kid almost had an aneurysm. 

6,800 people showed up to hear him sing in New Hampshire. That's pretty fantastic.

He'll be singing with Jason Mraz during the finale.

Caleb Johnson also hits the radio station upon arriving in Asheville, NC. He says he's on the way home but then he pulls up in front of the Biltmore House. Which is not the place he lives.

He sings to a crowd of old and young rock and roll fans and jams with his old band. He also gets his own day, but only in Asheville. But since New Hampshire could probably fit inside Asheville, SAME!

Fans are actually crying in the audience at his set in the bar where he used to play gigs. His parents are also nowhere to be seen on this hometown visit. His brother is present, but not his mom or dad. Interesting.

He's going to perform live with KISS next week. Which is perfect for him and the finale but once again proves how completely irrelevant he's made himself this season.

And now...the moment we've waited 50 minutes for...the American Idol Top 2.

Next week we'll watch as Jena Irene and Caleb Johnson duke it out for the title of  The Next American Idol.

WHHHHAAAAATTTTTTT???? 

Alex Preston is gone but not forgotten! He's more than proved his talent this season and WILL have a career in music. In fact, his career will probably be bigger than either of the two advancing to the finale. 

Wow. I'm shocked. 

What do you think of Alex Preston's elimination?

Well done, Caleb Johnson! He's advanced to the final 13 on American Idol.

Miranda Wicker is a Staff Writer for TV Fanatic. Follow her on Twitter.

Tags: American Idol, Reviews, Reality TV