We were introduced to another new intern in Bones Season 9 Episode 23.
Jessica Warren was the second new intern in the second half of Bones Season 9 - and she was equally as likable as the first, who has yet to make a return appearance. Something tells me we may see more of her.
When a body is found in a well, Jessica does a lot to help crack the case. She's also very fun and flirty. When her Sweetsdar goes off, she's not afraid to let cute Doctor Sweet know how she's feeling by way of inviting herself out for rare steak and thick beer. I like her!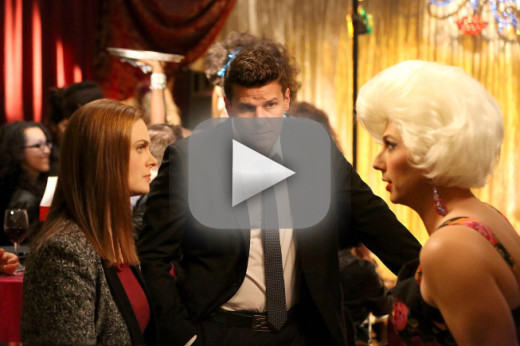 Actually, Jessica seems a lot like Daisy, without the overtly annoying tones she could take on. While Cam found her interactions with the team a little embarrassing at times (too much sex talk), Jessica got on well with everyone. 
Angela made sure Sweets took notice and Hodgins found a new friend to experiment with who is as eager and ready to try things out as he is. We could have a winner.
Sweets was the focus of the installment, along with his new friend, because Booth was taking a break to study the operations manual for the congressional hearing about his placement as the head of the Berlin office. You don't want to go in front of a congressional committee without knowing your stuff.
Interestingly, David Boreanaz was also studying up during the filming of this episode in preparation to direct the finale. 
The case was interesting and we learned a bit about how bullets react in water. Note to self: if ever I get shot, I'd prefer it to be under water to absorb some of the impact. While I may be paralyzed, there's also the possibility I could escape serious damage.
Jessica wanted to take the staining off of the bones so ordered a bunch of pineapples on a hunch. Figuring that pineapple breaks down meat and makes it tender, she assumed the acidity would take care of the staining. Luckily, science was on her side.
Cam: You risked the remains by trying a technique you weren't sure was gonna work?
Warren: Yeah... thanks for all the pineapples and trusting me. I'm thinkin' Mai Tais after work.
Cam: But I don't trust you. Not now.
Hodgins: It was risky, but I gotta say -- science was on her side.
They went through a lot of suspects, but it was again someone who just got carried away and killed someone in the heat of a moment. Those cases are always the most frightening to me because they make so much more sense in terms of real life.

I can't imagine ever planning a murder, but doing something stupid when blinded by anger? Sure. Would I ever do it because a teacher might turn me in for cheating? Definitely not. At least it's a situation I can comprehend, while planned and serial murders just aren't.

The treatment of Madam's Apple was well done. It didn't trip over anyone's feelings or make light of the topic, but it was still enjoyable. Murder victim Brian's wife even wished he had told her about his life as that might have been a way to keep him alive. Sadly, her wondering that is probably my least favorite part. It's unlikely that sharing would have made a difference in his decision to play out his fantasy, but now she'll wonder for the rest of her life.

Brennan was worried that Booth was testing her in case they no longer worked together, and he said they're a package deal if he gets the promotion. Sweets got the girl. Everything worked out in the end.

There wasn't a lot to say about the hour, but it was pleasant, entertaining and informative. That's not a bad haul for a Bones episode! 

If you want to check out more, you can always watch Bones online via TV Fanatic.

Thumbs up or down for intern Jessica Warren?

Carissa Pavlica is the managing editor and staff writer for TV Fanatic. Follow her on Twitter and on Google+.

Tags: Bones, Reviews