The aftermath of Jason's death and the escape from Austin on Revolution Season 2 Episode 19 proved that even Miles Matheson can have a bad day.
Poor Miles. Around every corner there seems to be yet another death trap waiting for him.
First, he's derailed by Shit Happens; then he's sliced open by the final Texas Ranger; and finally ends up trapped in a basement. The unfortunate series of events does make Miles think about his life and question his choices.
It paints a picture of how much Charlie and Rachel have changed him.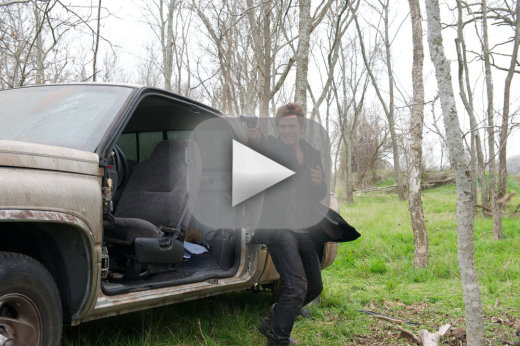 Miles continues to question his choices, but he realizes that his poor choices do not outweigh his love for Rachel and Charlie. He's willing to live with those bad choices and let them continue to run through his mind if it means he can get back to this surrogate family that he is now a part of.

The man is willing to cauterize his wound and set a fire to the basement to get out; it's clear that Miles' choice is by blood not by friend.

It's unfortunate that Monroe has not gotten the memo that his boyfriend/best friend doesn't love him in the same way that he does because Monroe continues to try to prove himself to Rachel.

However, Monroe planting a kiss on Rachel is just annoying; Monroe wants to use it as a way to assert his power over her, but it only serves to make Monroe look like even more of a jackass in the situation (if not borderline sexual assault).

If I were in Rachel's position, I would just cleanly shoot Monroe's head off at that point.

The highlight of the episode were the interactions between Tom and Charlie. The guilt of what she's done to Jason weighs heavily on her and she comes to a point where she can't fight it.

It's a powerful scene when Tom and Charlie both break down over Jason's loss. The two of them are usually the emotional bedrocks, unwavering no matter the situation, but not even Tom can hold back his grief. It's a welcome change for a man who disregarded his son during his life.

The low point, once again, belonged to Nano Priscilla. These scenes are an absolute chore to get through and do not offer anything of substance or value to the plot.

Rather, they serve to disrupt the plot and pacing of the show, dragging Aaron through the mud. It's unfortunate that Revolution Season 2 did not go through with killing the nanotech because, honestly, watching the nanotech hound Aaron for pizza is not how I want to spend my precious Wednesday night.

Are you sick of the nanotech?

Nick McHatton is a TV Fanatic Staff Writer. Follow him on Twitter.

Tags: Revolution, Reviews
Want more Revolution?
Sign up for our daily newsletter and receive the latest tv news delivered to your inbox for free!
More From TV Fanatic
Power struggles ensue all around Chester's Mill on Under the Dome. Lives will be put on the line.
Scott decides to get tough on Teen Wolf after rescuing his Beta by declaring he won't sit back and watch more deaths. Find out what else went down in the review!
Heather and Tamra consider making peace with Shannon on The Real Housewives of Orange County. See what went down in our TV Fanatic review!
On Murder in the First, the trial of Erich Blunt reaches its conclusion. But what is the verdict? Find out when you read the review.
---