If only an artifact actually exists that could trap us in a TV series. That would be the life. 
Naturally, I would pick a juicy soap like Days of Our Lives or Revenge - and life would be pretty grand except for my untimely death, knowing my luck. 
Anyway, Warehouse 13 Season 5 Episode 4 did exactly this, as Pete and Myka helped Kelly, a blast from Pete's relationship past, whose Nana was trapped in her favorite telenovela (that's been canceled naturally).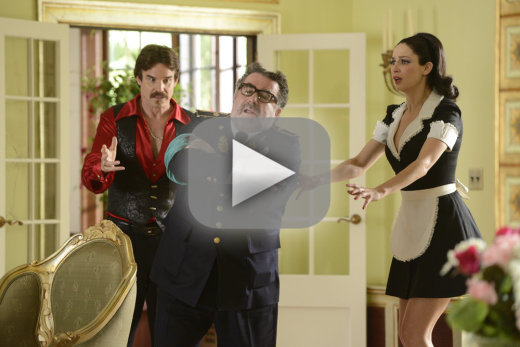 This was a fun mission and one that was rather unique, even by Warehouse standards. Part of why Warehouse 13 is so enjoyable to watch is not just the relationships between the characters but the "cray cray" situations that the team tends to find themselves in. 

And they didn't just dip their toes into the telenovela waters; no, they dove right in - and I found myself actually wishing there was a telenovela I could watch once Warehouse 13 hangs up its coat.

There was plenty of camp, silliness and more than one twist. It even played with both sides of shippers: in the novela, Steve and Myka cannot express their love for each other fully because the twist makes them brother and sister. 

Yet when they do find themselves back in reality, Kelly makes it clear that she and Pete would never work out because of he's in love with her; the price on Pete's face is priceless. He's completely surprised, even as he has been professing his love for Myka all season in roundabout ways.  

Claudia and Steve's frat mission is another fun note. Their friendship always provides wonderful banter, but this installment offered some of the best yet. When the artifact splits Steve in two, his super awesome flamboyant side and his stern worker side, Claudia just about loses herself: boob jokes, RuPaul's Drag Race lines and more come quickly. 

Quite honestly, I'm wishing Steve's split personalities stuck around just a little longer. I'm all for stiff, dry humor Steve. But seeing that other side of him play and really, really banter with Claudia on her level was ridiculously awesome. 

There is some movement forward with the season's overall story. Claire's body has been taken. It's absolutely no secret who took it and this abridged season makes for absolutely zero nuance when it comes to propelling the stories forward. 

Did you enjoy the telenovela?

Nick McHatton is a TV Fanatic Staff Writer. Follow him on Twitter.

Tags: Warehouse 13, Reviews