On Chasing Life Season 1 Episode 2, there was a more concerted effort to get us interested in April's family. But I'm not sure it worked.
Since April has decided to keep her illness from her family, we were essentially watching three different shows. The first two featured April She's busy having a life, a boyfriend and career while hiding her cancer in the first and dealing with her cancer with the help of her uncle and best friend in the other.
The third was about April's family, as they acted independently from her. Her sister Brenna and her mother Sara were trying to reconnect and behave like the mother daughter team they were before the death of Thomas Carver (who was, apparently a famous author -- very convenient for another story in April's life, her unknown sister).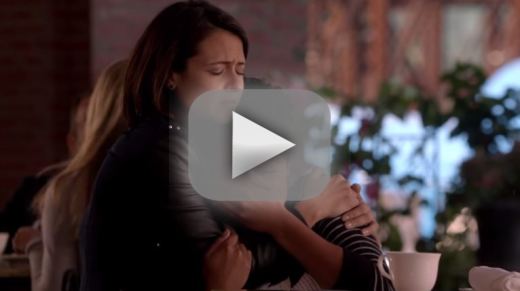 All of these shows are interesting and have poignant points and funny moments and tender times between the characters, but since the central theme of the show is April battling cancer, it seems like there should be more tying the three together.

At least April told Beth this week about her cancer, and she can be the funny friend who says inappropriate thing to ensure their coffee is served faster and she can keep up on all the latest leukemia news through her Cancer Answers app. 

The most compelling parts of the story thus far have been April at work and April reconnecting with her uncle, oncologist George. 

This week it appeared as if April might get a mentor at the paper. Her name is Raquel and she's the new senior political correspondent. Despite initially bonding over not being those girls who get all competitive around other girls, Raquel turned out to be exactly that.

One minute April had a professional crush and the next she wanted to crush a professional. It happens! 

What I really enjoyed was her boss, Lawrence, giving April kudos for not giving up. She really has that zest for, well, pretty much everything, that will help her get ahead in her career, get the guy and kick cancer. She's impossible not to like despite my own pettiness in wishing I could be more like April and the way she is written.

Sister Brenna is trying to find her own way in life. She's at that awkward stage of life where she's discovering and trying everything, but by the second episode she met a really cool guy (although he has a lot of tattoos and works at an upscale tattoo parlor) who will probably end being fabulous for her, bringing her closer to her mother (after the initial "why does he have so many tats" issue) than she ever expected.

We did learn this week how April's father died. George was driving, had an accident and killed his passenger -- Thomas. I'm still betting there will be more to the story of how he died and perhaps even a connection between what happened and new sister Natalie Ortiz.

One of the things that really drove home why it is important for the three stories to woven together is a Chasing Life quote George shared with April, "April, you have cancer. Stop thinking about things in the short term because believe me, if you don't, you might not have a long term!" Dictating his notes, George considered her prognosis uncertain.

April needs all facets of her life working in unison to fight the looming battle she is trying desperately to imagine isn't there. Her job, her friends and her family may all leave, but cancer won't unless she fights hard to kick it out of her life.

Steven Weber is doing a great job as George, as he continues not only to care for and about April, but to want to get information about her family. It's obvious that he regrets missing time with them so I'm anxious to see what it was that drove him to stay away.

What did you think about the second installment? Be sure to watch Chasing Life online if you need to catch up!

Which part of April's life is catching your interest?

Carissa Pavlica is the managing editor and staff writer for TV Fanatic. Follow her on Twitter and on Google+.

Tags: Chasing Life, Reviews