Just when you thought you had it all figured out, Royal Pains Season 6 Episode 3 threw you for a loop.
We thought Emma was only in the Hamptons to reunite with her long-lost father, but now we have reason to believe she's actually running a con.
Which side do you believe, fellow Hamptonites? Let's break it all down!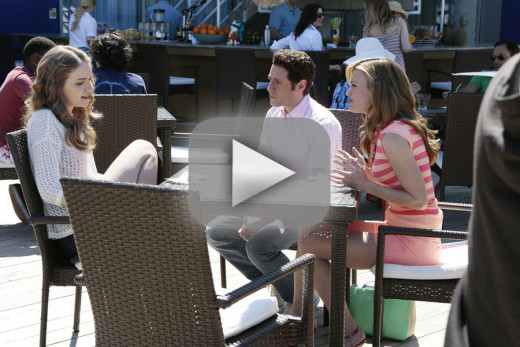 There's a pretty strong argument that Emma is there for the right reasons. After all, she did come to the Hamptons and stay in a motel and tried really hard to put on airs that she was rich. She may have told a few white lies - mainly that she was underage - but not once did she ask for money outright, denying accusations early on to that effect.

Playing devil's advocate, though, Evan let it slip that he may have paid her to actually hang out with Eddie R. This is definitely troubling, if only for the situation of uncertainty it caused. Perhaps it was her plan all along.

Then again, it doesn't seem like the payment offer extended to this new situation, which she would be free to exit at any time. I know I wouldn't; they have some pretty sweet digs, but if it was really about her and her mom trying to con Eddie R., this setup only really benefits Emma.

I guess we'll just have to wait and see, which is also true of other evolving situations on Royal Pains Season 6, both of which have Jeremiah at the center.

So Jeremiah has found a new spot to occupy on the daily between 3 p.m. and 5 p.m. It was certainly a quiet spot that seemed conducive to work, but now there seems to be a nice girl that might very well develop an interest in our socially awkward but lovable HankMed Medical Director.

Then again, Jeremiah may be lying to Divya about her and Sashi overstaying their welcome, both in word and action. We know it won't be long before that secret comes out.

What are the chances he still harbors feelings from Divya that extend beyond friendship? We might not know for a while, but right now it may suffice to say that some distance will make his heart grow fonder.

Lots of relationship twists and turns, but one important question remains: Is Emma running a con on the Lawson clan?

C. Charles is a TV Fanatic Staff Writer. Follow her on Twitter.

Tags: Royal Pains, Reviews