Suits Scoop: Aaron Korsh on New Harvey/Mike Dynamic, Jessica's Romance & More!
by Jim Halterman at . Updated at . Comments
Can Suits be Suits when Harvey and Mike aren't exactly... well, Harvey and Mike?
At least not as we've known them to be over the years?
That's the big question going into Suits Season 4 - and while some Suits Fanatics out there may be concerned about the summer ahead, you can rest assured that creator Aaron Korsh and his writers have devised a season-full of ways to keep the twosome together.
And while Harvey and Mike will continue to be the core of the show, the launching point at the start of Suits Season 4 Episode 1 shows that there's much going on for everyone else as well.
Mike is still hanging around despite his new venture in investment banking in this photo from "One-Two-Three-Go..."
For example, Jessica finally is seeing some action (and then some!) in the romance department... Louis has his eyes set on a lofty (but not entirely out of reach) ambition... Donna is busy being Donna... and Rachel - still paired with Mike - will see her relationship get further complicated this season due to her place at Pearson Specter.
While I talked with the cast during last month's NBCU Cable upfront in New York City, I also managed to grab a few minutes with Korsh recently to talk about the new season, grbbing a few highlights of what fans can expect from our favorite characters this season...
Together but separate? Korsh revealed that the decision to have Mike leave the firm at the end of last season was not an easy one to make work.
"I feel like if we give [Mike] a job offer and he doesn't take it, everybody's going to assume he wasn't going to take it and they will be dissatisfied. Whereas if we give him a job offer and at first he doesn't take it and everybody will assume 'Oh, we always knew he wasn't going to take it' but then he does then that's sending a message.'"
That message is, basically, expect the unexpected.
Challenges Ahead: Mike will have some adjusting to life without his former mentor, but Harvey shouldn't assume Mike isn't ready to be on his own.
"I think maybe Harvey, in the beginning of the year, underestimates Mike a little bit but it's also possible that Mike underestimates Harvey a little bit. It's going to be a big challenge for both of them."
Mike will also have his own Donna, a character named Annie who we'll meet in the season premiere.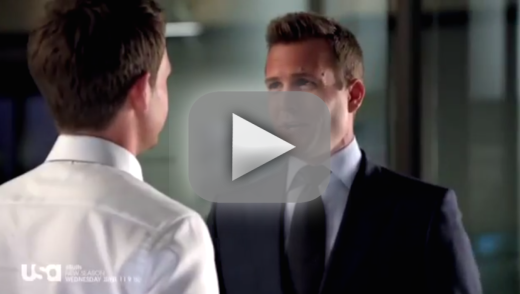 Spring In His Step: Don't be surprised if you see a lighter Harvey when the season opens up. Is that how we'll see him this year or just a starting off point?

"It's a little bit of both, but probably more of a starting off point," Korsh explained, citing all the characters start off in a pretty good place, including the newly single Mr. Specter. "Harvey has presumably moved on from Scotty and is back to enjoying life."

I'm Donna. And you are…? Will Donna cross paths with Mike's new right hand? "We will likely see Donna and Amy cross paths. I will say that. I believe we're going to make that happen."

Lovin' For Jessica: I've asked every season about a love interest for Ms. Pearson, so why was this season the right time?

"In the course of writing television, as you go through seasons, you get to know each of your characters a little bit more and you touch on different ones at different times," Korsh stated. "We have dealt more with Jessica but she's the one that we haven't seen in a kind of romantic relationship but I think it's time for that to happen and gives us an opportunity to see more of that character." 

And, in keeping with the show's habit of having our cast get involved with people in the legal world, the same will happen for Jessica: "It feels weird if we're going outside of the office and a relationship is going on outside of the office."

The Litt Ambition: We'll see Katrina put the idea in Louis's head about being a full partner this season. "When we came up with [that idea] it was more of a fun thing to put in his head," Korsh said. "I wouldn't necessarily say it's more of the arc of the season but it's more planting the seed that this is what Louis wants…It's the way to give him a tangible goal that reflects his ambition."

Extracurricular Activities for…?  Korsh teased one story we'll see this season is one that puts Donna together with Louis - but not involving a pesky client or a complicated legal case.

"There's one episode where Donna and Louis have a story together and it's not work-centric and it's driven by Donna's extracurricular activities."

While what those activities are will have to wait to be revealed, the showrunner did confirm that we'll learn more about Donna's life before the firm: "In the first nine episodes, we do get some insight into Donna's backstory and her life growing up She has some interesting scenes with Louis where she reveals things about her past in those scenes."

Familiar faces, New Roles: Watch for a cavalcade of familiar guest stars to pass through the series this season including, as we previously announced, Neal McDonough and Zeljko Ivanek; as well as DB Woodside, Michael Gross, Brendan Hines and Melanie Papalia as the aforementioned Amy.

Flashbacks? There isn't a flashback planned for the season yet, but Korsh would like to see one happen. "We have been trying to get to a flashback episode," he said. "I have to tell you that I want to do it only if it's going to be satisfying and reveals some new things."

He added that they may try to do an out-of-place episode showing what happened in the small time jump between the end of Suits Season 3 and start of Season 4 but nothing is set in stone yet. That said, the Suits writers are still hard at work on crafting the second half of the season so time will tell. I know my fingers are crossed.

Suits airs Wednesdays at 9/8c on USA.

Jim Halterman is the West Coast Editor of TV Fanatic and the owner of JimHalterman.com. Follow him on Twitter.

Tags: Suits, Interviews, Exclusives, Spoilers