The longer April tries to deal with her cancer, the more she understands her father's moral dilemma.
In Chasing Life Season 1 Episode 7 April struggles with how to tell Dominic about the leukemia, and when she finally makes the decision to lay it on the table, another obstacle is thrown in her way. 
April realizes while talking with George how her father must have felt about Natalie Ortiz; there is not always a great time to tell someone you care about news you know will hurt them.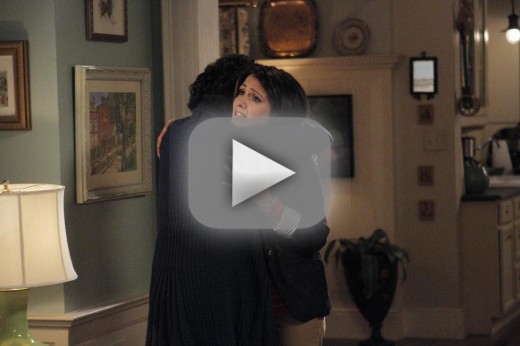 April wants to tell Dominic, so much so that it becomes the topic of discussion at the cancer meeting. There are many differing opinions on the subject, and one guy lost his boyfriend the very day he told him to a stripper. It's difficult to know what is worse, losing them because of your disease or keeping them for the same reason.

That's what April is faced with when Dominic is offered a once-in-a-career opportunity -- to travel the world with one of his favorite bands for four months to cover their journey.

April receives her own bit of good news -- she's given her first byline after discovering some unsavory information Bruce Hendrie. She gets permission from Leo and approval from her boss and runs with the story. At a party thrown in her honor, Dominic confides in Leo that he got the job but might not take it because of how he feels about April. She feels much better she didn't further cloud his decision by sharing her cancer news.

It's during a game of "never have I ever" at her party that she learns Leo once found someone in the office attractive (duh) and Brenna is attracted to the same sex. There were a lot of revelations at that party!

April also met with her fertility doctor for the first time, discovering the cost might be prohibitive to her decision to go through with it. Beth suggests a Kickstarter campaign, but by the time the show ends, it's also revealed that her treatment was paid for by an anonymous donor.

The friendship between April and Leo continues to grow, and he is shown to be a better guy the more we find out about him. April's relationship with Dominic is still very new. She'll be going through cancer treatments while he's off enjoying himself on a dream job. How will the two effectively communicate under those circumstances? She'll no doubt turn to Leo a lot more in his waning months (how sad is that to say?!)

I'm worried for Greer. She's a really nice girl and Brenna's been under stress lately. Her sister's cancer and the discovery of her dad's affair and daughter, pointedly, sent her to Greer, so her move could be temporary. As Greer said, it's not easy hanging around with girls and liking them, not knowing if they like girls, too. If they do, We still don't really know what Brenna is feeling, other than confused and in need of a tender heart. Have we seen the end of Kieran?

George tried so hard to help Sara, and instead he wound up embarrassing her by taking her to a social mixer for cancer caregivers. She wanted to talk about the cancer, only to learn the other caregivers thought of it as their one night to be free of the subject. The good thing about that is George and Sara are getting over their own relationship drama and it should draw them ever closer.

The news about April is slowly getting around, and I won't be surprised if Dominic learns about it while he's on the road. That would either bring them closer or push them apart. Thanks to her hard work, April has been freed of Raquel (thank God, because the character was not working) and that was the best opportunity for her to tell Lawrence about being ill. She merely noted a medical reason to take time off, but it could happen that he would mention the absence to Dominic in the future.

Time will tell on all of these stories, but we're half way through the first season! Remember, you can watch Chasing Life online via TV Fanatic if you've missed any episodes. Hit the comments with your thoughts on tonight's developments.

Who paid for April's fertility treatments?

Carissa Pavlica is the managing editor and staff writer for TV Fanatic. Follow her on Twitter and on Google+.

Tags: Chasing Life, Reviews