What happens in Vegas… just adds to the layers of problems for Joe, Gordon and Cameron.
And after a series of emotional ups and downs in Halt and Catch Fire Season 1 Episode 9, the final result for the team does end in victory. It just comes with a major cost that practically tears the soul from the team and their PC.
In fact, it's pretty crazy as to how many hurdles the trio has had to overcome in Halt and Catch Fire Season 1 to make it to a point where they could even attempt to promote their product at COMDEX. So to reach Sin City and find another stack of problems, you'd think they would have just given up.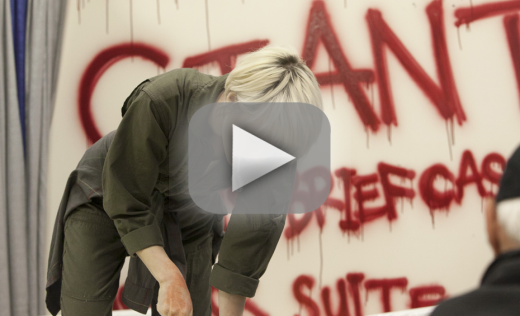 But even with the power struggles, the chess match between Joe, Gordon and Cameron, there's a resilience, a perseverance to succeed. Sometimes all it takes is one to push them a step closer.

It certainly made it exciting that the trio, with the addition of Donna, continued right in the vein of not following the rules and charting their own path.

Can't get a hotel room? Sweet talk your way into one. Can't promote the PC on the expo floor room? Find a creative alternative to entice buyers to the hotel room and throw a party. And when you aren't even ready to turn on the one thing everyone is dying to see? Use Joe to pull out his slick talking tricks and play up parties and porn stars. The PC can wait.

I guess I should have known that things were going too well, I mean the team was actually a functioning and amicable crew riding the high of preparing to unveil the mighty Giant.

So it was a major shock when Donna's former boss (the one she kissed) had teamed up with the former Cardiff Electric employee Gordon fired in Halt and Catch Fire Season 1 Episode 3 to unveil an almost literal knockoff of the Giant. And of course, it was called the Slingshot.

It was like my heart sank just watching the main characters faces agape at suddenly being dead in the water.

On top of that, the unity that was going so well began to crumble.

Donna and Gordon had their yelling time about all their bottled up problems. Donna even had to go and say she wished she had an affair. Not cool, Donna.

Sure, Gordon did give her credit for the motherboard design in front of everyone later, but the couple's inevitable emotional top was bound to blow.

But wow, Donna's boss went from Mr. Nice Guy to total sleazeball looking for a way to the top. At any means necessary. I was really expecting Joe to show him a right hook or something at their sit down.

The whole reveal, the payback's a bitch moment, really made me think where Halt and Catch Fire Season 2 might go. I really thought it was the end for the group. Perhaps Cameron might go to California (and she still just might.)

And in a wonderfully tragic moment of both victory and defeat, Gordon did the only thing that could even keep them in the game: he eliminated the PC's personality. It would and did make the machine go faster, but it was simply that, a cold machine.

That chess game of alliances between the core three was split once again as Joe was forced to side with Gordon to keep the dream alive, at the cost of ruining his personal and perhaps closest relationship.

Even listening to them promote their PC at the end felt so filled with sorrow at pulling apart all the innovation and "uniqueness" they had strived for in the beginning. I felt for the team, especially knowing how far they've come, even with all the lying, stealing, betrayals, etc. The path to PC victory is a brutal and cutthroat world, and Joe, Gordon, Cameron and Donna felt the full force of it in Vegas.

It wasn't quite the happy ending anyone was expecting.

It definitely made the final scene of Joe almost solemnly walking into the quiet hotel room to see the Macintosh computer boot up with the personality his team had been reaching for, had achieved and was broken. And it even talked. Something about it, from the tragic buildup and fall to the quiet and eerie glow made for a haunting ending.

And with the season finale left, I'm not so sure that closure and any uplifting PC achievement is possible. But the only way to move forward in the technological battle is to regroup and come together again. I just wonder if too much emotional damage has been done to even do so.

Will Cameron leave the team for California?

Sean McKenna is a TV Fanatic Staff Writer. Follow him on Twitter.

Tags: Halt and Catch Fire, Reviews