From the first scene in Ray Donovan Season 2 Episode 1 until the last, Liev Schreiber commands attention with his portrayal of the titular character.
It feels as though no time has passed since Ray Donovan Season 1 and the atmosphere that's set up is both startling and comforting.
Ray awakens next to Abby, covered in sweat and just out of a nightmare reminding us of the last scene from Ray Donovan Season 1 Episode 12, followed by Ray's vision of being 6 feet deep with the dirt pouring over him. 
His kids aren't the only ones who can't get the idea that Ray almost died out of their heads.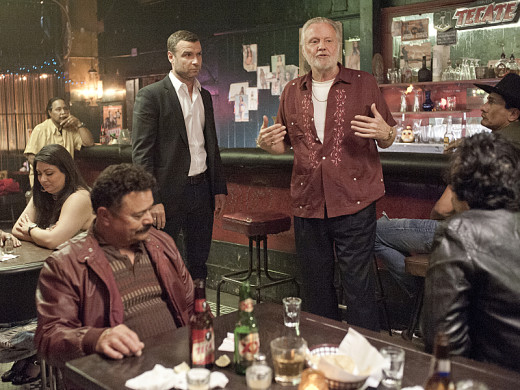 Ray's admission of molestation has taken its toll in the two weeks since Sully's death. He's screwing Abby two times a day, but if the morning bump and grind is any indication, there is no love involved with what he's doing; he's trying to erase the pain brought to him by Mickey's return.

Mickey has flown the coop to Mexico, where he's planned a fight for El Negro, Daryll to you and me. When FBI agent Frank tells Ray about the world crumbling down around him, Ray doesn't hesitate. Whether this new direction is related to a change of heart about the way he handles things or just a decision to let others handy his nasty Mickey problem, I don't know. But, Ray walks right into the FBI Assistant Director Cochran's office, admits to paying Sully $2 million to kill his father and reports that Mickey cleaned up his Most Wanted Man mess. He's welcome, God Bless America.

Thus the hour becomes a countdown for the return of Mickey to Los Angeles. Cochran is happy Sully is gone and perfectly happy to let the FBI claim a win against America's Most Wanted, but he's not going to take Ray's word for what went down. It seems all he wants is Mickey and for him he'll let Ray and Frank walk. When Ray doesn't immediately acquiesce, Cochran sends a message through Bridget. Ray receives it loud and clear.

Ray seems to want to embrace change, if only to keep from being the same man he was before, not necessarily to set things right. He knows he loves his family, but that doesn't mean he knows exactly what to do to keep them. Abby's confession to the therapist about how Mickey came back into their lives opens the doors between them, but it's also reason for him to heartlessly pound into her twice daily to pay for her sins.

Ray first goes to his brothers for help locating Mickey, but doesn't receive a lot of help. Daryll still holds Mickey up as the great white hope, temporarily anyway. Terry is angry about everything and pining for Frances. Bunchy is trying to get his life together with therapy and a job (the first he's had since delivering the Boston Globe). 

As a quick aside, I wish Bunchy could find some better meetings to attend to help with his molestation. I got a really bad feeling about the new guy at group and how he latched onto Bunch. He gave me the shivers. Bunchy is incredibly susceptible to offers of kindness, as we learned with Mickey last season; I worry about him.

When Daryll, err, El Negro was pummeled in the ring by a beast so that Mickey could collect on his loss, Daryll finally saw pops through a different light. He called Ray with an exact location of Mickey, although once Terry learned of the trouble Ray was in he had given him the Mexico tip so Ray was already on his way.

Mickey hasn't changed at all. He's still at his best drinking, dancing and boasting. Even when he's hallucinating Linda being in a dark place due to Mickey, he blames Sully and sticks with La Bamba. The song is a play on words in Spanish carrying the lyrics "I'm not a sailor, I'm a captain." A Bambollero is a braggart and the word fits Mickey to a T. 

Mickey doesn't pay much mind to Ray when he arrives in Mexico, because he couldn't imagine harm coming his way. Ray wants him to go back to California with him, but Mickey professes he's not a sailor, he's a captain! Ray answers him well by playing "Come A Little Bit Closer" on the jukebox. The corresponding lyrics are about a man hitting on someone's woman and the impending trouble on the way. Mickey is oblivious.

The clothes make the man. Always impeccably dressed and already with one blood soaked shirt exchanged for the day, Ray takes off his jacket and shirt, swaps them for a baseball bat in his trunk and reenters the cantina. We hear, rather than see, what transpires next, but Ray's call to Cochran declaring he has his father was all the proof we needed.

Ray is more vulnerable this season than he was last; he has a devastatingly personal secret he wants to keep private. He's not handling it well with Abby, but he's trying. Being under the scrutiny of Cochran won't be easy for Ray and it will be interesting to see how he handles the new pressure.

Ray cleaned up one mess in the premiere, but it seems like his heart isn't in the fixing business anymore. Or, perhaps he's tired of being at the beck and call of others, making his own needs secondary. Ray thinks Mickey is a bad man, but Ray's actions don't necessarily paint him in a different light than his father. When he stops hiding from that, maybe he'll figure out what he needs, including how to live with his family rather than living beside them.

Grade the Ray Donovan Season 2 Premiere:

Carissa Pavlica is the managing editor and staff writer for TV Fanatic. Follow her on Twitter and on Google+.

Tags: Ray Donovan, Reviews