We learn in Salem Season 1 Episode 13 that neither Increase nor Mary are as stupid as they portray.
Mary is talked into leaving Salem with Alden to get their second chance. However, Tituba has a hidden card up her sleeve that will not only force Mary to finish the Grand Rite before leaving, but will likely change her decision to go.
When Isaac delivers the news of Alden's impending hanging to Cotton, the latter goes to pay his last respects to Alden, one of the only friends he has ever had. He discovers Alden gone and blames Increase. Increase laughs it off; Alden is no witch, but he's in love with one.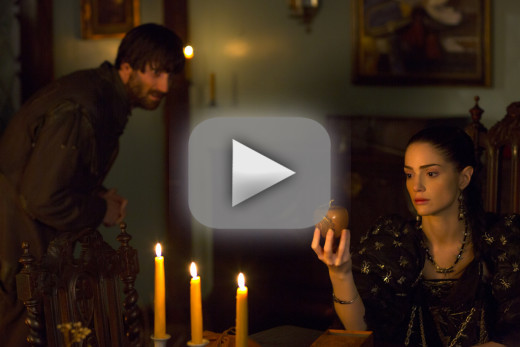 Cotton was ready to give up everything he has learned and his quest for knowledge to once again join Increase as a member of his flock, but he's completely shocked to learn that Mary is a witch and even more that Increase has known and intends to end her life by nightfall.
Tituba, meanwhile, delivers to Mary the shock of her life. Her child, given up to the dark lord, has been alive all these years and treated better than any other. He'll remain alive only if Mary finishes the Grand Rite. There isn't a moment of hesitation as Mary makes the choice to continue, even though Alden would be awaiting her return to the woods so they can ride off together.
Mary requests a favor from Isaac in return for a small fortune, enough to turn his life around outside of Salem. He is to deliver the Malum to the tree with the black guts that stream out of it and to deliver to Cotton a letter on his way out of town.
Mary confronts Increase with a plan. They toss insults at each other as well as weapons, and when Mary finds her hands covered in Increase's blood, Mary licks it wickedly. Her face is utterly transformed and we finally see the evil witch residing inside of Mary. It's one of Janet Montgomery's finest moments.
I suggested in the Salem Season 1 Episode 12 review that Increase being the 13th soul would be perfect. What I didn't expect was that Mary would set it up so that Cotton took the life of his father while he tried to protect Mary. That's a really cruel moment for Mary, especially because Alden considers Cotton a friend. It makes me wonder if Mary truly understands the man Alden is now.
As Mary has set the Grand Rite into motion, Alden has seen the moon rise above the trees. That's his cue to take his leave of Salem without Mary. Instead, he hears dogs barking and men screaming -- he's being hunted. As he is pulled up by militia men by a hangman's noose, the Indians shoot him free and a small war begins between the militia and Indians, with Alden siding with the Indians once again. 
Our Grand Rite now is done. Blood dimmed dawn now shall come. Powers of the moon and sun ignite. All flesh trembles at the sight. Thirteen souls fed to hungry earth opens the way for our dark lord's birth.

Mary
Isaac decides that doing what Mary asked with the Malum is not right. He digs a hole for it instead. As the life is draining out of Increase and the sky turns red, the Malum opens. Eventually Isaac is holding in his hands a tiny beating heart which burst apart, covering him in blood and leaving him frothing at the mouth and seizing.

Mary is reunited with her son, a cute little boy, and hugs him dearly as Alden is being carried by the Indians, lifeless. Cotton is riding out of town and Isaac is left frothing. But that's not even all of it!

Anne came into her own, but could she be a good witch? Denouncing herself as being like her father, her anger rips apart their safe place when the Rite is completed and she learns their friends and neighbors are perishing outside their doors. She won't stand for it and won't be like her father. The longer her anger persists, the worse things become and soon the top of her mother's head blows off and a wooden spike sails through the air, penetrating Hale's forehead.

Mercy has amassed an army she calls her children and she tells them Mary is unaware that it was she who killed The Rose, making Mercy the Queen of the Night and not Mary. Her intentions must be to fight Mary for the crown of Salem.

The body count is at least four dead; Hale, Mrs. Hale, Increase and Alden. We can be certain Alden will rise again, but what of the others? Cotton is on his way out of town, but I have to wonder if seeing the red sky will cause him to turn around. Or, perhaps he will stumble upon the Indians carrying Alden and stop.

In all honesty, I didn't expect the Grand Rite to be achieved. That means that for Salem Season 2 the town will be run by witches and the Puritans should be gone or at least under the witches control. Isaac's fate is up in the air. Anne, angry at the idea Mary was the cause for all of this will align herself with... whom? 

If Cotton returns to town, will he be able to carry on his friendship with Mary if Alden is with her? Will Alden be able to forgive Mary for continuing with the Grand Rite? Will Alden and Mary just settle in with their son and try to lead normal lives? Maybe Alden will be angry that Mary didn't keep his word and he was forced to fight again. What of George? Did he die with the plague upon Salem?

So many questions, but a really great setup to take us into next year. 

If you need to catch up you can watch Salem online anytime.

Grade the Salem season 1 finale!

Carissa Pavlica is the managing editor and staff writer for TV Fanatic. Follow her on Twitter and on Google+.

Tags: Salem, Reviews