Well, Extant Season 1 Episode 6 continued on the frantic journey of Molly Woods and it shows no signs of slowing down!
Harmon Kryger came back to the surface and with him the mystery of the "rash," an image of which was sent to him when he was on the Seraphim; the symbol that was on Molly, that Kryger drew, and that Ethan is having dreams about.
Yep, whatever Ethan went through to come back to the living, so to speak, has given him the ability to dream and greatly enhanced his mental capacity.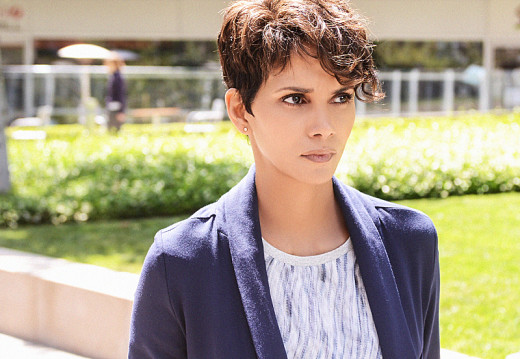 We pretty much theorized a while back that Sparks is not a good guy. He's blackmailing Sam, making Molly think she's nuts, engaged in a cover up about Kryger's death and so much more. Now we know when his daughter was in space on a ship called the Aruna, at the same time Kryger was, her entire crew was lost.

Katie Sparks was pregnant and it was probably her who sent the "distress" signal by accident to the Seraphim when Kryger saw it. Katie took her own life, launching herself into space. Where the hell was Sparks as she sent that horrible message telling him she was going to die? Just watching her say her last words? He sure seems to regret it now.

But not so much that he didn't use Molly and others for bait after it all went down. 

Knowing what happened to the Aruna, to Kryger and to Molly, it's shocking there is another dude up on the Seraphim again. He's going to play a part, because he's portrayed by Enver Gjokaj (of Dollhouse fame). He doesn't pop up randomly.

I'm also confused as to why Sparks goes to the alien (or whatever) baby and demands it show her to him. Or was it a computer system he was talking to? Either way, there's no need for such dramatics when he has young Katie in living color on a very cool picture frame on his desk at the ISEA. Is the baby a piece of Katie?

Julie meeting the "god" Odin at the amputee gym couldn't have been a coincidence. I can only assume it was a special gym since Odin seemed to take for granted that she knew why he was there. His conversation with Ethan, though, makes me think something else is going on. He's prodding.

Julie was in the middle of apologizing to John when he up and ran away to check on Molly. What are the odds that's not going to come back to bite him in the ass? That girl has issues and meeting up with Odin will surely compound them.

You all were right, by the way, and I was wrong in thinking they wiped Sam's mind. She really is a good actress. That little flap of skin think could come in handy, though, right? Plop it onto anyone from whom you want information and you get a direct feed to your cell phone. I'll take a dozen!

Kern should be in a heap of trouble. As head of security, drugging up and gassing out at lunch time seems a tad inappropriate. He deserved to have his fingerprints stolen. Having the capacity to so easily take fingerprints really takes away from using a hand print for entry into classified areas. Seems he should have known that.

We haven't heard from Yasumoto, but I'm guessing he'll be back for the big two hour event next week. I think two hour even really means they're going to cram as many episodes down as they can to make room for more programming, and that's a shame. Extant is a really fun show. The mystery has built solidly and at a really good pace (it's episode 6 for goodness sakes!), but I guess with Berry's star power, a lot more was expected of the vehicle.

I want to know how the nanites or power fluxes or whatever they hell they are take on the images of the dearly departed in the minds of those affected. Did Katie really toss her pod into deep space? Will the baby grow at an accelerated rate (please?) and how is all of this changing Ethan?

I like knowing that Ethan wasn't just a cool piece of Molly's life that wouldn't really fit in with the overall story -- it's turning out that he could be key to a lot going forward. If you've missed any of the series, you can watch Extant online via TV Fanatic. This all sounds fascinating, so why not give it a go?

Do you think Julie is going to cause trouble?

Carissa Pavlica is the managing editor and staff writer for TV Fanatic. Follow her on Twitter and on Google+.

Tags: Extant, Reviews