It just gets better and better.
If Satisfaction Season 1 Episode 6 doesn't drive you toward a discussion about who you are, who you love, who you want to be and why you might not already know those things, then you might be watching the show wrong.
I'm so lucky to have this outlet to share my thoughts about these multi-faceted characters because I need to talk about it.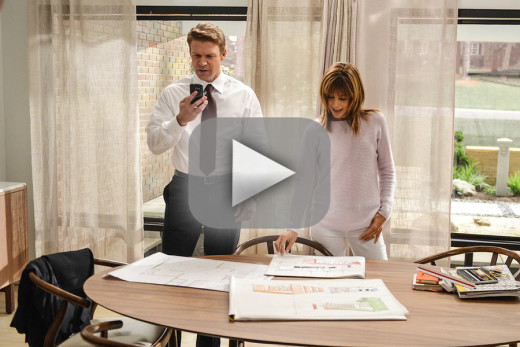 We got a much more complete picture of Grace in this installment and it was just in time. It was becoming difficult to understand exactly where she was coming from, because we've been left to our own devices to figure her out.
Adriana orchestrated much of what happened during the hour and her involvement with Grace gave us a perspective similar to what we get when Neil visits with the Zen Master. I'd say it's no surprise that we didn't see him this week and this change of circumstances might mean that we'll start to see Neil and Grace on a more even playing field.
Ironically, if Neil paid more attention to Grace's work, he would have figured out her new client in seconds. He's still more interested in his own life than he is theirs as a couple. They spent a night in bed together, but he was gone (to Adriana's) before she woke up. 
Are they getting closer to the end than they are to finding their way back to each other? Right now that answer is yes.
Grace is just starting to discover who she wants to be. It was interesting what she shared with Adriana, that the house she lives in isn't hers. She picked out what's in it, but it's not her style. Her style was discovered by Dylan's eye and through his lens. 
For everyone fearing this week's photo shoot was going to be some big orgy, they were proven wrong again. Dylan was recreating his own Spencer Tunick like shoot.
Hey, it's not, it's not about nudity. It's really not. It's about viewing the spaces we inhabit every day differently, in a more human way.

Dylan
Much like his shoot was not about nudity, Satisfaction is not about sex. The adultery and sex in Satisfaction are merely ways for us to see a marriage from a different vantage point. Hopefully one we'll never have to visit ourselves, but that doesn't mean the topics don't demand attention.
Grace misses Neil and Neil misses Grace, but neither of them know themselves or each other well enough to ignite a spark in their marriage. The longer they remain apart, trying to discover themselves, the farther from their destination they become. They're in each others lives right now only because they're married, live under the same roof and have become used to that.
Grace likes what others see in her and had a respectable level of jealousy when she learned Stephanie was going out with Dylan. I wonder if it makes her feel better that Stephanie asked him out and not the other way around. It's a safe bet she'd be willing to step out with him if he asked, but would Grace do that to her sister now that she thinks Dylan is "the one"?
Adriana wanted to know more about Grace, but discovering a beautiful, passionate, interesting woman awaits Neil should he ever figure it out didn't leave a good taste in her mouth. She was angry and mean and lost her edge when Neil arrived at her house. When she insulted Grace, Neil said she didn't get to do that because she'd given up.
I haven't give up, I've surrendered. There's a peace that comes with that.

Adriana
The look on Adriana's face as she said that was so raw. It was the first time she showed any true emotion and having that kind of power over her really turned Neil on and we got a glimpse at what can happen when two people give in to one another. 

Finding yourself isn't easy. The entire Truman family is in a rut and they're all pushing boundaries to discover what is buried inside them. Even Anika is being challenged by Matteo. The people who push you to your limits and encourage you to explore the deepest parts of yourself are usually the ones you respect the most in life. 

I'm looking forward to more talks between Grace and Adriana. There is a lot more to Grace that we'll only see if she talks it out with someone, and it's not going to be with her husband or her sister.

Next week seems to get a bit out of control. Grace's nude photo maybe splashing around town? Grace and Neil appear to find their own connection, perhaps because he finally sees her the way Dylan does. While I would think we can't be too far from their worlds colliding and Adriana being outed, to do that too soon could loosen her impact as Grace's guru so I hope it's later.

What did you think of the work that was down toward Neil's idea of a happy app? Did anyone else want to sing "Shiny Happy People" by REM the whole time? Was that the connection between happiness and the mirror-effect used on the boxes and the laptop, or is it that happiness is a reflection of who you are so you must be happy with what you see... I'm not sure how to wrap my head around that.

There were some excellent Satisfaction quotes tonight, so please visit them. You can also watch Satisfaction online if you want to revisit it or if you were just intrigued enough to stop in and have to start from the beginning.

I want to know what you think. Are you more open to Grace after the light shined on her this week? Do you think we have some time before the Trumans realize they're being maneuvered by Adriana? What did you think of Adriana and her interplay with both of them? She's equally beguiling no matter who she's with, I think. 

Did you learn anything about yourself while watching? Hit the comments, light up the board! Let's get excited for next week!

Carissa Pavlica is the managing editor and staff writer for TV Fanatic. Follow her on Twitter and on Google+.

Tags: Satisfaction, Reviews