The Real Housewives of Orange County Review: The Heart of the Matter
by Miranda Wicker at . Updated at . Comments
Now that the final party is in the books, the highlight reel has been watched, and Kumbaya has been sung, it's time for the ladies of Orange County to pay a little visit to Andy Cohen.
The Real Housewives of Orange County Season 9 Episode 19, aka Reunion Part 1, will see Tamra Judge and Lizzie Rovsek facing off AGAIN because these two really don't like one another. And Heather Dubrow is rocking a new style!
Let's recap it now in TVF fashion...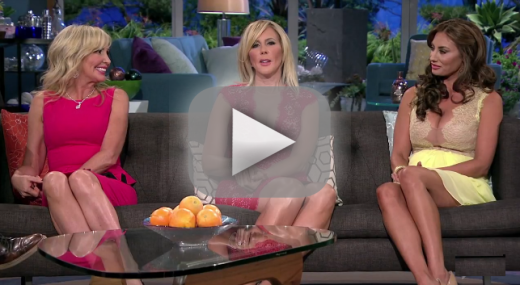 Before and after Nick Lachey was married to Jessica Simpson, he dated Lizzie Rovsek. Shannon Beador's holistic dentist consulted a group of psychics and they determined that Shannon had once saved a nation so he put jewels in her teeth for free. 

THOSE are the craziest two things to come out of the first 5 minutes. 

Heather Dubrow has bangs and Vicki Gunvalson is buying Andale's. 

Those are the two LEAST crazy things to come out of the first 5 minutes.

The first question of the night goes to Vicki: "What exactly does 'gay' look like?"

She gives a typically stereotypical answer and then she tells Andy Cohen that he "doesn't have a gaydar" and "is all boy" to her. Minus 12.

Lizzie wastes zero time calling Tamra trashy when Andy brings up Tamra's moniker for Lizzie's boobs: Kentucky Fried Titties. "Always baked, never fried," says Lizzie. Plus 4.

For the tear-inducing portion of the reunion, let's go ahead and talk about Briana moving away from home and Tamra and Vicki's cryfests. 

Ryan and Sarah are expecting a baby and they'll be getting married. Probably. At some point. Tamra doesn't know. Minus 8.

Vicki's been to Oklahoma 7 or 8 times since Briana moved to Oklahoma. Her new baby boy is here and Owen is adorable! Plus 20.

Oklahomans, however, do not like Vicki thanks to her comments about how Oklahoma is a "forgotten state." When she's given 30 seconds to address the state of Oklahoma, Vicki continues to insult the state instead of apologize for her comments. 

OH, VICKI.

Shannon's house is up for sale, but she says it's "been up for sale." The house is too big for them and they want a better view. Probably because the Dubrows bought the best view in the neighborhood. Plus 8

If we could have skipped the Heather-Shannon rehash of the entire season I wouldn't have complained. Their voices and the whining and the UGH. 

BUT. There's drama to hash out. 

Heather begins by saying she figured out where things came from in her own mind and how she might have misinterpreted situations. She apologizes for the chair incident which sparked things between them.

Shannon zeroes in and doesn't seem to accept Heather's apology. THEN she points fingers at Tamra's pot-stirring tendencies.

Heather clarifies what she meant about Shannon "yelling" at her during the Christmas party and says it wasn't the decibel of Shannon's voice but the tone and says she used an unfortunate choice of words.

That's not good enough for Shannon either. And Shannon, again, points the finger at Tamra. 

Instead of letting Shannon continue to hammer Tamra, Andy changes the topic to Vicki's spousal support settlement with Donn. He's "living large" right now thanks to her and she's resolved to make her money back. Plus 12.

And now it's time for the Brooks portion of the show. Minus 8.

Briana understands that Brooks is in Vicki's life, but she doesn't want to meet with him. She's holding the line on that one and so far, living two lives is working for Vicki.

Vicki says it took a long time to forgive Brooks after his statements that Vicki needed to be beaten. Tamra's comment to Lizzie that Brooks isn't a good guy causes a screaming match between Vicki and Tamra. 

Tamra's not allowed to have an opinion, per Vicki. Okay then.

Ooof. Here we go. Email-gate.

When Andy asks David why he sent Shannon an email about their marriage, he starts answering that it's easier sometimes to write things down and Heather agrees with him. Then Shannon throws Tamra under the bus again. Minus 10

Shannon completely blames Tamra for stirring everything up with the email and the "take the Beadors down" comment and Shannon's drinking. Shannon starts to cry when she tells Tamra not to talk to her about her drinking.

That's a touchy subject there.

When Heather apologizes--AGAIN--for repeating information that she didn't think was that big a deal since other people at her table were talking about the Beador's marriage, Shannon doesn't accept it again.

Shannon interprets Heather's "We're done. Please leave." and says that definitely means Heather kicked her out. Then Shannon says she's a forgiving person.

HAHAHAHA. No. 

Tamra sees the way Shannon twists things to make them seem more dramatic and Shannon refuses to acknowledge that she might have a drinking problem. That seems to be her sticking point. She can't stand when people bring up her drinking or call her crazy.

Terry and David have it out again about David's sexual comments about Heather riding the bull and Andy wants to know why it wasn't a big deal that Eddie told Heather to ride the bull like she rides Terry.

Simple. Eddie's a friend. He'd only met David twice. Seems legit.

David agreed that he made inappropriate comments. He felt demeaned by Terry for Dr. Dubrow's comments about construction workers. 

Then it's revealed that David's a flirt, asking Vicki about the color of her underwear and Shannon just shrinks into herself and away from her husband.

Sounds like trouble in Beador paradise.

EPISODE TOTAL: +6 SEASON TOTAL: -443

What did you think of The Real Housewives of Orange County Season 9 Episode 19? Was Terry Dubrow demeaning construction workers with his comments to David at Vicki's party? How do you like Heather's bangs? Is Tamra Barney Judge really the root of all Orange County evil?

Miranda Wicker is a Staff Writer for TV Fanatic. Follow her on Twitter.

Tags: The Real Housewives of Orange County, Reviews, Reality TV