This is it, PLL Fanatics: our last round table for Pretty Little Liars Season 5 until the Christmas episode.
Below, we discuss whether Mona's death will have an impact on Emily's celebration, what Spencer's arrest means and how his Officer status will affect Toby, among other pressing topics.
Join TV Fanatics Nick McHatton, Teresa Lopez and new contributor Paul Dailly for a discussion about Pretty Little Liars Season 5 Episode 12. Drop your thoughts in the comments!
------------------------------------------------------
 Given Emily's enthusiasm for Christmas, do you expect the events to cloud her enjoyment of the holiday?
Nick: Mona being brutally murdered can certainly put a damper on Christmas cheer, but the events might be all the more reason for Emily to solider on and continue to enjoy one of her favorite holidays.
Teresa: Possibly. Although she might be weirded out about the surprisingly warm winter weather this year. Isn't this supposed to be Pennsylvania?
Paul: Doubtful. Emily likes to make the best of situations so I fully expect her to use christmas as an escape from recent events.
Carissa: HA! Teresa, I didn't even think of that. I was watching and thinking they lived in California. What a horrible representation of a PA Christmas! That's enough to make anyone say bah humbug!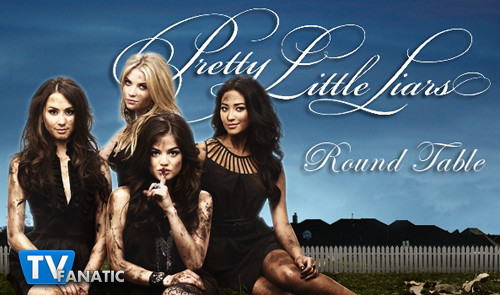 What do you think of Officer Toby?

Nick: I swear it was about five minutes ago that Toby decided he wanted to be a cop, and now he's already graduating from the academy. PLL time is wonky like that, but, nevertheless, I love the idea of Toby being a police officer. It broadens the scope of the character and gives him way more to do - which is always a good thing. Additionally, Spencer's arrest will already pull him in two different directions, and I'm excited to see what kind of choices he will make because of it.

Teresa: Kind of makes me suspicious. Most of the police on this show are pretty corrupt, and Toby has had some A issues in the past. This could be a way to make his character, you know, relevant again. Once you're just another boyfriend, it gets easier to replace you.

Paul: It all happened fast. I fully expect him to supply the girls with information they need about potential suspects. It will be a tad more believable than school kids hacking in to government systems to get information.

Carissa: It would be nice if he could just steal department information as Paul suggests. Mona's gone, so Caleb has to take over hacking duties. Maybe this will enhance their bromance.

Emily is pulling out all the stops to celebrate Christmas!

Share your thoughts on Spencer's arrest.

Nick: The show foreshadowed it well with Holbrook asking a lot of question about Spencer, but I'm curious what exactly they have on her. None of the evidence seems concrete at all but circumstantial. Perhaps they're arresting her to try to persuade her into confessing, but Spencer is too smart for those kind of tactics.

Teresa: Ridiculous. As far as we could see, there was nothing at Radley to connect Spencer to Bethany only to Alison. What kind of judge signs off on an arrest warrant based on the suspicion that she murdered someone to curry favor with the group leader? If the group leader (Alison) has that much influence over her friends, then she might be the one to investigate.

Paul: I think Alison orchestrated this. She is trying to deflect everything from herself. Look at how fast she turned Monas' gang against her.

Carissa: It's kind of ridiculous. The force is just so scatterbrained. One minute they're all over Aria and Alison for various things (fake kidnapping, murder of Shana) and instead they suddenly arrest Spencer. Maybe the police are A.

Mona deduced that Ali was A just before she died. Do you agree?

Nick: It's always been in the back of my mind. Ali converting almost all of Mona's army to her side is most telling to me because it parallels the Minion A's. Ali can have her minions dress up in black, and replenish their ranks, all to throw suspicion off of her and to still get things done. The other big reason that I agree is Mona actually gives a plausible reason why the girls would actually want to be friends with someone as despicable as Ali.

Teresa: Maybe, but I'm too jaded to trust the clues the writers give us. Perhaps the girl we think is Alison isn't really Alison, but Bethany Young with plastic surgery? Nah...that's too crazy. But I will say that Alison's creepy turn this season makes me question every little "truth" she offered up in last season's finale. Did her mother really bury her alive? Could Alison have returned to murder her own mother? It just makes the entire narrative of the series so much more unreliable.

Paul: Not at all. The show still has at least two and a half seasons to go. I don't expect to find out who A is until then.

Carissa: With the nods to twins coming out of the bathroom, I'm guessing we're not skipping the twin theory with Ali all together. Or she's a schizophrenic. Something is terribly wrong with the girl. At least a part of her is A-ish.

Finally, Mona is gone. React!

Nick: So disappointing to see her gone. I've never had any issues with Mona once she came back (mostly) rehabilitated, and I only wish Pretty Little Liars had Mona joining up with the ladies sooner instead of in her final episode. She's been a mostly unused asset to the show, and once she has a hero moment she ends up a corpse in a trunk.

Teresa: Poor Mona. It was obvious at the start of the episode that she was going to be the one to die. I had hoped she could've made an escape, but that final shot of her lifeless body was way more depressing than any of the other dead bodies on this show.

Paul: This wasn't a shock by any means. The character has been so underused recently. She is one of the strongest characters on the show. I wouldn't have believed she was gone if we hadn't seen her corpse.

Carissa: I think it was a terrible waste to involve her so dramatically in one episode only to kill her off. We've waited for her to take a more central role, we've hated her when we were supposed to and we should have had more of a chance to warm up to her. I hate the idea. Kill Melissa or Cece or another useless character.

If you haven't caught up, what are you waiting for? You can watch Pretty Little Liars online via TV Fanatic!

One of the biggest days was Alison's return to high school after two years absence, the same time Caleb tested to drop out!

Carissa Pavlica is the managing editor and staff writer for TV Fanatic. Follow her on Twitter and on Google+.

Tags: Pretty Little Liars, Round Tables