The amazing banter took more than "Fifty-One Percent" of Reckless Season 1 Episode 10, as the couple kicked their already smoking sparring sessions up to a new level.
That's part of what made the outcome so difficult to swallow.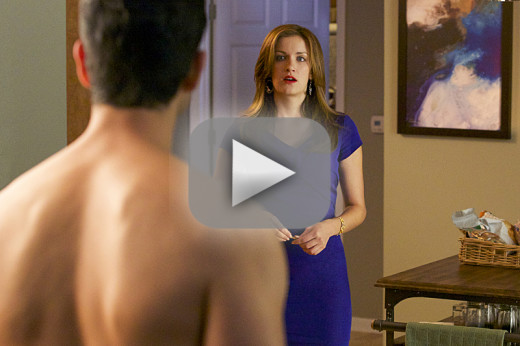 Jamie allowed herself to be interview by Nancy, the TV reporter Roy was…dating? Perhaps not or at least not any longer. Roy was very quick to point out that Nancy is not his girlfriend, although she has many fine talents. That offhanded remark didn't slow Jamie down for a moment as she hit back in this Reckless quote…
Roy: I know you don't like her but you sure didn't hesitate to use her.
Jamie: Oh, it was mutually beneficial. You can say that Nancy and I are friends with benefits.
Zing! I'd say Jamie won the match with that one. But when Roy and Jamie's attention turned to the sex tape being leaked, it was difficult for things not to become heated. They both accused one another of leaking the tape, then stepped back realizing that neither one of them would sink to that level. Sometimes their verbal wrangling takes on a life of its own.
Jamie: It's hard to step in the ring with you.
Roy: Rather be in with you than anyone else.
An even better aww worthy moment was Jamie dropping over and playing tea party with Roy and his girls. If she weren't half in love with Roy already, seeing him as the hot, doting dad should definitely have pushed her over the edge. 
So then why did she choose to give things a second chance with Preston? Was it guilt? Does she feel as though she owes it to him for turning him away? Was his final plea to her before he got shot truly that moving?
I like Preston and under different circumstances I'd understand Jamie's actions but under these circumstances I'm a little lost. She spent most of the entire episode shamelessly flirty with Roy. Their chemistry lights up the screen. So does Jamie really believe that she and Preston have a future because that's certainly not the vibe I was getting from her as her attraction to Roy continued to grow. 
The case of the week was distressing on so many levels. That a little girl will grow up without her mother. That the child was kept from her father and most of all for the reminder that there are still so many places in the world where women are treated like property. They are seen as weak and meant to be kept silent. It's sad and frightening all at once.
There was so much more going on during the hour. Vi found out that Terry blackmailed her daughter to install that camera. Honestly, I was a little disappointed. I was hoping to see Vi hunt Terry down and make him pay on a much more personal level. Perhaps we'll get that confrontation in the future but getting Terry suspended probably hurt him as much as anything could. Other than Lee Anne, the only other thing that seems to matter to Terry is being a cop. If they take that away I'm not sure what he'll do. 
Terry: You're making a mistake.
Knox: And it's the best mistake I've ever made.
Suspending Terry had to be the one thing that made Knox feel a little bit better about all the hits he's taken…and they're not done yet.

No one can say that Dec isn't a brilliant strategist. Whether he set this up from step one or simply took advantage of the situation as it unfolded, he really may have just set himself up to be the next mayor. But he's about to take on a political campaign with his wife by his side and a baby on the side. Is that ballsy or simply reckless? I guess if he manages to pull it off then we'll know.

And what do you think Reckless fans? Is Arliss still alive or did he end up as gator bait?

C. Orlando is a TV Fanatic Staff Writer. Follow her on Twitter.

Tags: Reckless, Reviews