Damon Salvatore
Played by:
Ian Somerhalder
Bio
Ian Somerhalder stars as Damon Salvatore on the CW's The Vampire Diaries. Damon is the older of the two vampire brothers and is definitely the darker of the two.
He's spent most of his life trying to resurrect a vampire he fell for in 1864, Katherine. But he has developed feelings for Elena, creating a quasi love triangle on the show.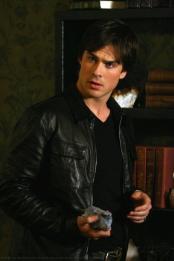 Pictures
Clips
Quotes
Damon: She's strong and crafty and you'll die.
Elena: At least I'll die trying.