Ralph Wiggum Photos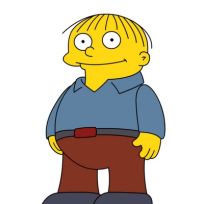 Added:
Displaying 1 photo
Around the Web
Want more The Simpsons?
Sign up for our daily newsletter and receive the latest tv news delivered to your inbox for free!
MARGE! Where are you? Did you change your name? Is it Kelly? KELLY!

Homer
Homer: (Wearing glasses) The sum of the square roots of any two sides of an isosceles triangle is equal to the square root of the remaining side!
Man: (From inside a bathroom stall.) That's a right triangle, you idiot!
Homer: D'oh!