The Simpsons Episode Guide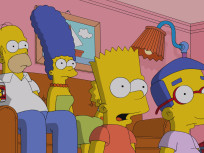 The town of Springfield is shocked at the news of Krusty the Clown's retirement in the Season 26 premiere.
When the annual 4th of July fireworks are cancelled due to budget issues, Homer tries to bring them back on The Simpsons.
After Homer insults the new neighbors, Marge decides she's done trying to make new friends until something Lisa says changes her mind on The Simpsons.
Homer wakes up in a world where he and everyone is Springfield are now made of Legos on The Simpsons.
The mob grabs Homer and Bart when they believe that Bart has special powers that can help a thoroughbred racehorse conceive on The Simpsons.
In a future world, Lisa is married to Millhouse, Bart argues with ex-wife Jenna, and Homer gets a new clone when he dies on The Simpsons.
Marge isn't happy when Lisa begins dating a competitive eater and she enlists Homer's help to stop it on The Simpsons.
Homer is recruited to be a referee for the World Cup, after Lisa gives a speech about his integrity on The Simpsons.
Homer and Marge struggle over whether to split the money with their neighbor when they buy a priceless work of art at a garage sale on The Simpsons.
When a retirement home closes due to health violations, Marge takes in some of its residents but isn't happy with how Homer fits in on The Simpsons.