Family Guy Season 7 Episode 10: "FOX-y Lady" Photos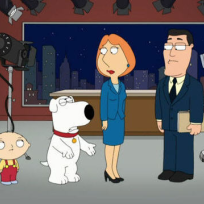 Added:
Displaying 1 photo
Around the Web
Want more Family Guy?
Sign up for our daily newsletter and receive the latest tv news delivered to your inbox for free!
Lois, please, take the job for Fox's sake.

Anchorman
Brian: Oh, my God. Fred Savage is the greatest actor in the world!
Savage: That's all I ever wanted to be known for.
Lois: Is it okay if we run this story instead?
Savage: Sure thing!
Daniel Stern: [as the voice-over from "The Wonder Years"] It was just then that I knew that things were finally going my...
Savage: [angrily] I DON'T NEED YOU ANYMORE!!!