Friends Season 2 Episode 14: "The One with the Prom Video" Photos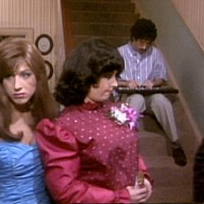 Added:
Displaying 1 photo
Around the Web
Want more Friends?
Sign up for our daily newsletter and receive the latest tv news delivered to your inbox for free!
Phoebe: (About Ross's chances to date Rachel) Hang in there, it's gonna happen.
Ross: Okay, now how do you know that?
Phoebe: Because she's your lobster.
Joey: If you hated the bracelet so much Chandler, you should have just said so.
Chandler: Well, doesn't the fact that I wore the bracelet even though I hated it say something about our friendship and how much it means to me?
Joey: What about the fact that you insulted the bracelet and you made fun of me?
Chandler: Okay, well, that's the part where I'm a wank.