Private Practice Season 2 Episode 11: "Contamination" Photos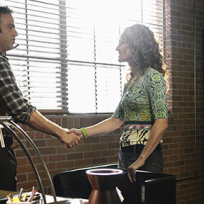 Added:
Displaying 1 photo
Around the Web
Want more Private Practice?
Sign up for our daily newsletter and receive the latest tv news delivered to your inbox for free!
Addison: If you want to work with Wyatt again, work with Wyatt again. Don't not do it because of what I say.
Naomi: You comfortable with that?
Addison: I'm not comfortable thinking that my advice colors what you say or what you do. Hate him for yourself, or not.
Addison: Hey, do you think I missed the boat with Pete?
Naomi: Ugh. You didn't miss a Pete boat. You dodged hurricane Pete.
Addison: You really think it's gonna end that badly?
Naomi: Are we talking about the same Pete?