TV Fanatic Works Better with Prime Instant Video
40,000 other titles are available to watch now.
Rescue Me Season 7 Episode 5: "Head" Photos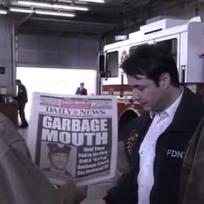 Added:
Displaying 1 photo
Around the Web
Want more Rescue Me?
Sign up for our daily newsletter and receive the latest tv news delivered to your inbox for free!
Needles: Tommy, I need you to go home. Don't do anything stupid for about a month.
Sean: That's not gonna happen. Did I say that out loud?
Lou: I married a hooker.
Needles: He married a hooker. I married a Russian mail order bride.
Sean: Uh, I married Maggie.
Needles: Which I'm banking on makes the hooker and the mail order bride seem sensible.
Black Shawn: I'm marrying Colleen.
Needles: Which is gonna make marrying Maggie look like a day at the beach. No offense, Tommy.
Tommy: None taken.
Franco: Yeah, well, I guess I could be considered a deadbeat dad.
Needles: And a conspiracy freak.
Mike: My gayness.
Lou: The whole nun thing.
Franco: Lesbo girlfriend.
Mike: Extreme gayness.
Needles: You know what's sad. Him being gay is the least of our public relations problems.