Elena Gilbert Quotes (Page 2)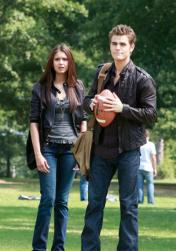 Season 4, Episode 16: "Bring It On"
Stefan: Jealous?
Elena: That would imply emotions. We've already established those are useless.
• Rating: 4.8 / 5.0
Elena: I don't know, maybe this a better version of me.
• Rating: 4.4 / 5.0
Caroline: Feeding on the competition, hello did you not hear what Damon told you?
Elena: I did but who cares? I'll do whatever I want.
• Rating: 4.9 / 5.0
Season 4, Episode 15: "Stand By Me"
Elena: Every inch of this house is filled with memories of the people that I loved that have died. My mom, my dad, Jeremy and Jenna, Alaric, John, even John. They're all dead. Everyone is dead.
• Rating: 5.0 / 5.0
Elena: You're mean to the people that you care about.
• Rating: 4.9 / 5.0
Elena: There is no science here, this is magic.
• Rating: 4.7 / 5.0
Season 4, Episode 14: "Down the Rabbit Hole"
Elena: Things changed the minute that I went off that bridge, Stefan. Even if I could be human again, I wouldn't be the person that I was. So it's about time that I accept the person that I am now and figure out a way...to start living the rest of my lif
• Rating: 5.0 / 5.0
Stefan: What's a deeply buried personal secret between friends?
Elena: Friends? I like that.
• Rating: 3.0 / 5.0
Season 4, Episode 13: "Into the Wild"
Elena: I'm sorry. And how are you helping?
Rebekah: I'm stronger than you. I'm faster than you. And I'm quite certain I can charm the islanders a lot easier than you.
Elena: Not disagreeing on the easy part.
Stefan: All right. We get it. You two hate each other. Can we just keep going, please?
• Rating: 5.0 / 5.0
Bonnie: Do you think Caroline will notice if there are only 89 red balloons?
Elena: Probably, yes.
• Rating: 4.9 / 5.0
Are we missing your favorite quote from "?" Submit it here and get points for adding quotes!
Total Quotes: 204