Girls Episode Guide
Hannah goes to extremes to see if Adam is still interested after he fails to react when she doesn't come home after a night out with coworkers on Girls.
Hannah is taken aback by an odd request from her mother when she goes to visit her grandmother at the hospital on Girls.
Hannah gets a warning about Adam's new career path while Marnie is intrigued by Adam's new friend on Girls.
Marnie invites the girls to a beach weekend in the Northfork. Things get heated when the girls have a few drinks.
Hannah writes for GQ magazine but doesn't fit in to the corporate environment while Shoshanna has second thoughts about breaking up with Ray on Girls.
Marnie asks Ray some hard questions while Hannah looks for a new publisher as she tries to smooth things over between Adam and Caroline on Girls.
Hannah's friends can't understand why she seems more worried about her book than a recent tragedy on Girls.
Hannah's 25th birthday party takes an unexpected turn when Adam's sister shows up on Girls.
Hannah takes a road trip and reunites with Jessa on this episode of Girls. Also, Marnie moves into her own apartment.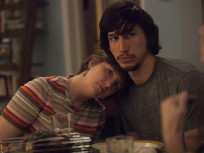 Hannah tries to keep her OCD under control on the Girls Season 3 premiere. We also catch up with Marnie, Shoshanna, and Jessa.