Watch The Amazing Race Online Free
Watch The Amazing Race Online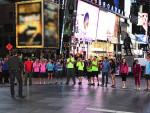 Watch The Amazing Race Season 25 Episode 1
"Go Big or Go Home"
Original Air Date:
On The Amazing Race season 25 premiere, 11 teams begin in New York City's Times Square, where they learn about a game-changing element that allows them to rescue themselves if they later face elimination.
Watch The Amazing Race Season 24 Episode 12
"Do You Believe in Magic?"
Original Air Date:
On the season finale of The Amazing Race, the final three teams must use the art of magic in a challenge desgned by David Copperfield.