The Amazing Race Episode Guide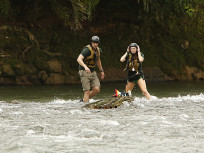 On The Amazing Race All Stars edition, the races face a detour decision where they can choose a river deliver or a run through the jungle while in Malaysia.
As The Amazing Race continues in Ghangahou, China, it almost ends prematurely due to a major mistake.
And... they're off! A new set of All-Stars compete on this edition of The Amazing Race.
In the 21s season premiere of The Amazing Race, 11 teams will race around to world for $1 million but if the duo who wins the first leg also wins the race, they will double their money.
In The Amazing Race season finale, contestants race through Japan to Honolulu on their way to try and claim the million dollar prize.
The race continues in India as one couple sustains an injury and another must make a hairy decision on The Amazing Race.
The contestants head to India where they must perform a traditional Bollywood dance in costume on The Amazing Race.
Teams must complete a detour to continue at Lake Manyara, Tanzania on The Amazing Race.
Tensions build on The Amazing Race this week, as teams train with Masai Warriors in Tanzania.
The Amazing Race teams spend time in Azerbaijan on this week's episode of the CBS competition.