House Season 5 Episode 21: "Saviors" Videos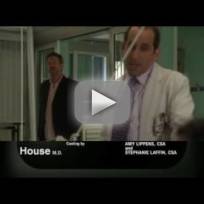 Added:
Displaying 1 video
Around the Web
Want more House?
Sign up for our daily newsletter and receive the latest tv news delivered to your inbox for free!
The only kind of mothering House wants involves a bullwhip, leather diapers, and a credit card.

Dr. Foreman
Dr. Cameron: I owe him a favor. He's taken about a dozen of my referrals over the last year.
Dr. Chase: I meant so that's five seconds to hand House the file, 30 for him to question your real motives, a minute for witty comments comparing the length of your legs to Thirteen's... plenty of time left over for the shore.