Smallville Season 9 Episode 17: "Upgrade" Videos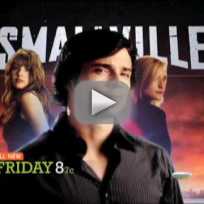 Added:
Displaying 1 video
Around the Web
Want more Smallville?
Sign up for our daily newsletter and receive the latest tv news delivered to your inbox for free!
Clark Kent at the keyboard? Have I been downsized in the bureaucratic world of superheroes?

Chloe
Chloe: I should have known that Clark took a walk down the ruby-red road. That's explains his lack of edit button.
Tess: I thought Clark was only affected by green meteor. What's the red do?
Chloe: Basically it turns him to the bad boy every girl dreams of... in her nightmares.