The Mindy Project Season 2 Videos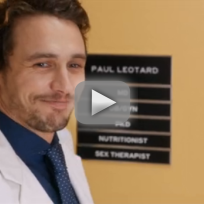 Added:
Displaying 1 video
Around the Web
Want more The Mindy Project?
Sign up for our daily newsletter and receive the latest tv news delivered to your inbox for free!
Are you kidding me, a winky face? That's like Emoji porn!

Morgan
Tamra: Un uh I told you, we don't want no candy bars little boy.
Mindy: Uh it's Dr. Lahiry, Tamra. I've worked here for many years and actually hired you.