Cote de Pablo Videos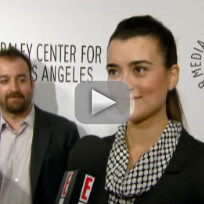 Added:
Displaying 1 video
Around the Web
Want more NCIS?
Sign up for our daily newsletter and receive the latest tv news delivered to your inbox for free!
McGee: Rule number 70 - keep digging till you hit bottom.
Abby: McGee! There is no rule 70.
McGee: Well, I--
Abby: You just made up a rule. This McGibbs thing has really gone to your head. I don't even recognize you right now.
You know what Tony is spelled backwards? Y not? Think about it

Tony