Thank goodness for Entertainment Weekly. The magazine reviewed a concert from the Season Five American Idol tour last week. With Taylor, Chris and the crew at the Continental Airlines Arena in East Rutherford, NJ, here's one critic's take on various performers:
Most likely to succeed: Based on audience feedback, Chris Daughtry may be poised for the biggest post-Idol career. It doesn't hurt that the guy is sex on a stick - parents should probably to cover the wee ones' ears and eyes during his cover of Led Zeppelin's "Whole Lotta Love" - but he's also the most polished, confident performer of the bunch.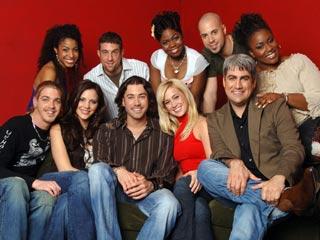 Most embarrassing: Ace Young will never advance beyond cheesy Idol also-ran status, if only for his painfully literal on-stage gestures. He traced a tear down his face on two separate occasions - singing the words "cried" on "Father Figure" and "cries" on Maroon 5's "Harder to Breathe." He also tapped his head meaningfully on the word "mind." That's just wrong.
Most surprising: Tenth-place finisher Lisa Tucker had the night's strongest showing among the women, sitting down at the piano to offer a restrained, heartfelt rendition of Elton John's "Your Song" - with no accompaniment from the band.
Most disappointing: Since her grandma Ann Nesby is apparently unwilling to say it, I'll deliver a much needed newsflash to Paris Bennett: "Young lady, you are not, nor will you ever be, the next Beyoncé Knowles." Paris' shenanigans on "Crazy in Love" provided too much awkward wiggle, and almost no vocal sizzle.
Most in need of a good life coach: After hearing his awesome one-two-three punch of "Moody's Mood for Love," "Never Too Much," and "Trouble," who could deny that Elliott Yamin is the best singer on the entire Idol tour? However, even after winning over millions of fans en route to a third-place finish, the guy still looks vaguely skittish at center stage. It might help if he traded a solo career for fronting a smooth jazz-R&B band.
Most sincere: It was actually Kellie Pickler. She sounded sincerely genuine thanking her fans for giving her a chance at fulfilling her dreams.
Most puzzling: No doubt, Taylor Hicks has a fine voice. And no doubt, he's going to sell boatloads of records. Still, this year's champ offered up a set that was just slightly underwhelming. Perhaps he's a little burned out from taking the lion's share of tour publicity, but after opening strong on "Jailhouse Rock" and Bob Seeger's "Hollywood Nights," he seemed oddly detached on "Sweet Soul Music" and "Don't Let Me Down."
Matt Richenthal is the Editor in Chief of TV Fanatic. Follow him on Twitter and on Google+.