"I never, ever had my heart set on being a singer," says Carrie Underwood. "That was something I thought I would like to do, but I always knew most likely it would never happen."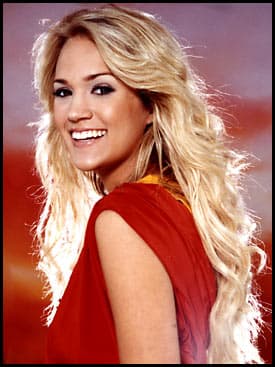 But, oh, how it happened.
It was only two years ago that Underwood took her very first airplane trip — to fly to the American Idol tryouts in L.A. She showed the world she was a singer and won the TV contest, turning instantly from small-town girl into a star.
On the strength of the American Idol win, Underwood's debut album, Some Hearts, went triple platinum, launching her into the forefront of country music. At the 40th annual Country Music Association Awards, to be held in Nashville on November 6, Underwood will be looking to win in no less than four categories:
Female Vocalist of the Year
Single of the Year (for "Jesus, Take the Wheel")
Music Video of the Year
The Horizon Award for breakthrough artist.
"I always told my mom, 'If I am supposed to sing, then the doors will open,'" Carrie said. "I feel like God totally stepped in and opened these doors for me."
And they have opened fast and wide.
"I've started out in a place that new artists just don't start out in," Underwood tells Parade magazine in an interview in Pennsylvania. "Hardly any people actually have a fan base before they have an album."
For her wide and possessive public, Underwood has become something more than a music star. Radiating sincerity, simplicity and accessibility, the petite blonde with the big voice is a surrogate best friend, sister or daughter. Underwood is the real deal -- a girl next door, a little goofy around the edges.
"You want somethin' to drink? Tea, coffee, water? Coffee-Mate? I used to steal creamers from restaurants," she giggles.
But a moment later, she's speaking quickly and feelingly, with assurance of a young woman who knows her own heart and is a quick study, besides.
Many people are unaware that amidst plenty of touring, Underwood, 23, graduated magna cum laude from Oklahoma's Northeastern State University this past spring with a degree in journalism.
"You'd be amazed at the stereotypes," she says, smiling. "People look at me like I must be a country bumpkin. They think I'm stupid. I'll do interviews, and everybody's like, 'Oh, haha, do you milk cows? Did you have chickens?' I've never milked a cow in my entire life."
Still, for Carrie Underwood, rural life is no nostalgic ideal -- it was the real thing. She was born and raised in Checotah, Okla., a town of 3,500 on the southeastern edge of the Great Plains.
"We had one school," she said. "Shopping was far away. We all had big yards and would go climb trees and play in ditches and ponds. On Halloween, we'd have a little mini-carnival for kids to come and be safe in church."
Carrie is the youngest, by nine years ("I was the 'Oops'"), of the three daughters of Stephen and Carole Underwood.
Her father worked for 30 years as a mill operator for Georgia-Pacific, then retired to raise cattle. Her mother used to teach school in town. Church was where Carrie began singing — and then came school plays and talent shows. She loved all kinds of music, yet it was country that spoke to her in a special way.
"To me, it was the least tainted," she says. "It wasn't about sex or how well you could dance. And you don't have to look like a supermodel. I'm sure it helps, but..."
Underwood laughs, then turns serious.
"To me, it's the most respectable kind of music. It's honest. The people are genuinely talented. I don't know one country artist who has ever been accused of lip-synching."
Carrie was talented enough at 13 that a local businessman underwrote a trip to Nashville. She made several demos, but nothing happened.
Then came American Idol. Underwood still shakes her head about her win.
"Everything happened so fast," she said. "People want to know stuff about you, and they invest their time and their energy into learning about you. There's a certain sense of ownership that the fans have over you: 'Well, I voted for you.'
"The thing is, it's all good. You just have to get used to it. If somebody comes up to you while you're eating dinner or something, it's kind of like, 'Well, I asked for it.' It's much better than the alternative — nobody caring and nobody buying your music. The point is to try to just realize that these people are really excited, and that's a good thing. You want them to be that way."
Still, it's not always easy to stay excited herself when the place that made Carrie what she is feels so far away. Like the girl in her hit song "Don't Forget To Remember Me," she talks regularly on the phone with her mother.
And she dreams of moving back to Checotah someday to raise a family.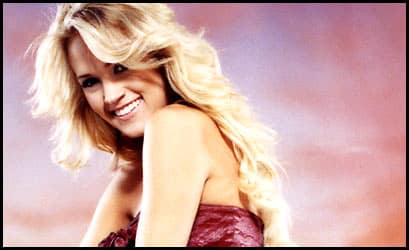 Matt Richenthal is the Editor in Chief of TV Fanatic. Follow him on Twitter and on Google+.