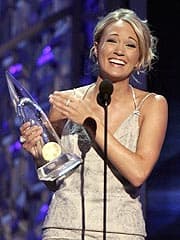 officially has some company.
Making the leap from American Idol champ to award-winning recording artist is not easy, but Carrie Underwood is making it look like it. The Oklahoma native won female vocalist of the year at the 40th Annual Country Music Association Awards in Nashville Monday night.
Underwood, whose debut album, Some Hearts, was released a year ago and became a smash hit, tearfully accepted the award.
"Two years ago I was sitting at home watching these very awards and watching all these other people win and having the best night of their life, and this is the best year of my life," the fourth-season American Idol winner said.
The singer also won the Horizon award, given for most significant creative growth. Backstage, the 23-year-old sweetheart said she was happy just to be nominated, let alone win twice.
"I would have taken male vocalist if they had given it to me," she joked.
It also appeared that Carrie was at the show with Anthony Fedorov, but we can't confirm that at this time. We welcome comments from anyone who can!
That top male vocalist honor went to Keith Urban for the second year in a row. Urban, who had to drop out of the show after checking into a rehab clinic last month, received a standing ovation his name was announced.
His prize was accepted by Ronnie Dunn of Brooks & Dunn, who read a letter from Urban in which in which he thanked his friends and family and wife Nicole Kidman. "To my wife, Nicole, I love you," Urban said the in the letter. "I'm looking forward to coming home and seeing you all soon."
Added Dunn: "We love you Keith -- good luck, brother."
Dunn himself, along with partner Kix Brooks, co-hosted the show and took home three awards for their song "Believe."
Kenny Chesney took the night's top award, entertainer of the year, which he'd also won two years ago. The vocal group award went to Rascal Flatts.
Besides Urban, the most buzzed-about star was former Dancing With the Stars contestant Sara Evans, who dropped out of the reality show amid a divorce scandal. While she didn't win female vocalist of the year, she performed her hit, "Real Fine Place to Start."
In our mind, of course, the night belonged to Carrie Underwood. Congratulations to a great singer, person, and one of our favorite American Idol people.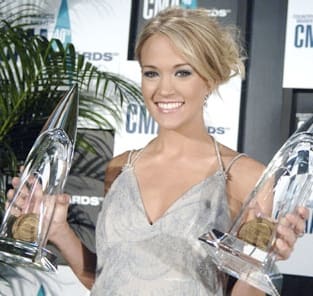 Matt Richenthal is the Editor in Chief of TV Fanatic. Follow him on Twitter and on Google+.