Just as American Idol kicks off - and we pray the women are better than the men - Paula Abul goes missing. Oh, phew, there she is. Okay, let's get started ....
- Jordin Sparks may not be an underdog after tonight. She instantly showed the guys just how it's done. We heart her a lot.
- Next up, Sabrina Sloan maintains momentum - but we liekd Jordin a bit more. So did the judges, it sounds like. None are overly impressed by Sloan's performance this week.
- Sadly for Antonella Barba, the same can be said. Simon actually compliments her on how she's handled the media buzz all week, but is very straightforward in his opinion: she simply doesn't belong in the competition anymore.
- Cowell isn't holding back tonight. Seems like he knows who the final six women ought to be ... and Haley Scarnato isn't in that group. He says as much during his critique of her attempt at Faith Hill's "If My Heart Had Wings." He doesn't even know her name? Ouch.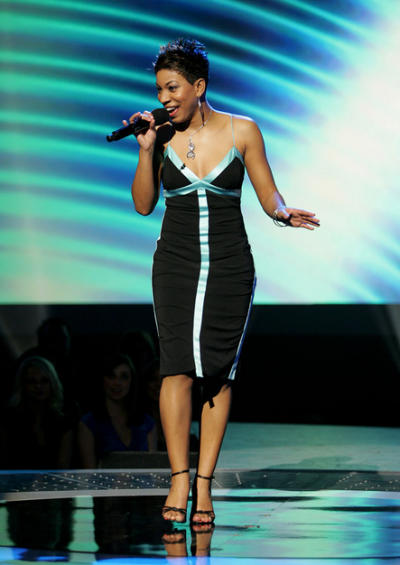 - No doubt that
Stephanie Edwards
(pictured) is a sweet thing, as her song choice suggests. She puts up another solid performance and should be easily through to next week.
- And now it's time for this year's rendition of "I Have Nothing" by Whitney Houston. Lakisha Jones does the honors. And does them perfectly well, but would anyone out there rush to buy an album from this talented woman?
- We're suckers for Evanescence. Always a fun time. So we were fans of Gina Glocksen giving this song a try. But it's really hard to live up to Amy Lee, as Glocksen proves. Still, we love her emotion.
- Closing the show is Melinda Doolittle. And she proves that she has a raunchy, sexy side with "I'm a Woman." Maybe Antonella has some competition. Either way, no argument here that we have a heavy favorite heading into the finals.
Our picks to be voted out: Antonella and Haley.
-
Matt Richenthal is the Editor in Chief of TV Fanatic. Follow him on Twitter and on Google+.