Thanks again to TV Guide for this American Idol review/preview ...
TVGuide.com: Before we get started, what did you think about "the biggest thing to happen to American Idol in five years," the "Idol Gives Back" fund-raiser shows?
Rosanna Tavarez: I think people are really excited, first of all because there are going to be incredible people performing on the show, like Gwen Stefani, and also because they're also finally using their visibility to do something for people in need. I think it's great. They're kind of flexing their muscles now, like Oprah does.
TVGuide.com: Had you speculated at all on what the announcement might be? My theory was they would pair up the guys and gals for a week of duets.
Rosanna: I thought maybe Ryan and Simon would have a thumb-wrestling fight.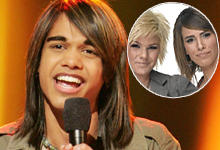 TVGuide.com
: Sundance or Sabrina: Who were you more shocked to see go?
Rosanna
:
Sabrina Sloan
, for sure. I felt like she had really consistent performances and was a great performer. Fine, the last performance wasn't amazing, but she was definitely better than a lot of other people who remained.
TVGuide.com: I wonder if she fell into this precarious "gray area," where she wasn't blowing the roof off the place, but wasn't attracting the sympathy vote, either.
Rosanna: Exactly. That's probably what happened.
TVGuide.com: I'm really liking [Gina Glocksen] these days. I can totally see her belting out a Kelly Clarkson-esque music video.
Rosanna: I think you just liked her in that tight dress!
TVGuide.com: Hey, now! So, this week's theme is Diana Ross and the Supremes. Who do you think will have the most trouble with that?
Rosanna: Maybe Sanjaya...? [Laughs] Oh, I'm horrible, I shouldn't be saying these things. Let me think....
TVGuide.com: I'll be interested to see in what direction Blake goes with this.
Rosanna: I'd be interested to see what direction Chris Sligh goes with this, because he's one of the people who's really going to have to make any one of Diana Ross' songs his. He's a pop guy, but Diana Ross' music is very sticky-sweet, so I'd like to see Chris wrap his head around that one!
TVGuide.com: Do the rules "change" at all from this point on? Is there any advice the singers should heed even more than they have done before?
Rosanna: I feel like the judges say it all the time, but what's more important now than ever is song choice. Which is what I just mentioned regarding Chris Sligh. If you're going to get a song, just make it your own. Really try to make it your own. Talk to the guy who does the arrangements, Ricky Minor, and be like, "Hey, dude, can we make this something that really reflects who I am? Sometimes the problem is some of these kids don't really know what their sound is. They can sing, but they don't know how to turn a song into their own song. A lot of the comments from last week were, "That sounded like a copycat performance," or "You were trying to sound like so-and-so."
TVGuide.com: Yeah, some favorites have had scares the past few weeks choosing underwhelming songs.
Rosanna: Or overwhelming songs.
TVGuide.com: It's kind of like, "Fool me twice, shame on me. Fool me a third time with the voting, shame on you."
Rosanna: [Laughs] Yes. And we won't mention any names anymore as to who is shaming America.
Matt Richenthal is the Editor in Chief of TV Fanatic. Follow him on Twitter and on Google+.